Welcome To My Shotoku System Review!
"Attention, Are You Looking For More Information On Shotoku System? You Are In The Right Place!"
Another make money online product from Brendan Mace I have reviewed many of his products in this site. There are a lot of products launched on the WarriorPlus platform but only a very few products are providing value to the buyers. In this Shotoku System Review, you will learn detailed information on this product.
After reading this review you will be in a better position in making your purchase decision. The main intention to write this review is to save your time, trouble, effort, and money.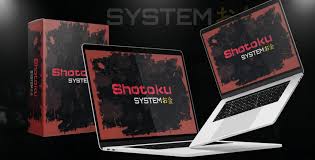 If You Don't Want To Waste Your Time On Scams And Products That Under-Delivers With Low-Quality, See My #1 Recommended Way Of Making Money Online

Shotoku System Review Summary
---
Product Name: Shotoku System Review
Website: https://brendanmace.convertri.com/shotoku (this is not my affiliate link)
Creators: Brendan Mace
Launch Date: 3rd Of July 2020
Product Type: Done For You Package
Price: $17.03 (At the time of writing this review) + Upsells
Summary: Shotoku System is a done for you package that provides you with 50 assets (freebies) and landing pages to build your list and promote your affiliate products.
Rating: 35/100
Is Shotoku System Legit Or Scam? Legit
Are There Better Options Compared To Shotoku System? Yes
Are You Serious About Making Money Online?
Turn Your Interest Into Income And Passion Into Profits!

Frequently Asked Questions – FAQ
---
Below you can find some frequently asked questions for your quick reference…
What Is Shotoku System All About?
Shotoku System is a done for you package that provides you with 50 assets (freebies) and landing pages to build your list and promote your affiliate products.
How Much Shotoku System Cost?
$17.03 (At the time of writing this review) + Upsells.
Is There Upsells?
Yes, there are 5 upsells.
Is It Possible To Make Money In Less Than 48 Hours As Mentioned In Shotoku System Sales Page?
It's a very rare case and not many can earn money in less than 48 hours.
Is Shotoku System A Scam?
Is It Possible To Make Money Online Using Shotoku System?
Is There A Money-Back Guarantee With Shotoku System?
Yes, there is a 30-Day Money-Back Guarantee.
Are There Better Options Available Compared To Shotoku System?
What's Your Top Recommendation To Make Money Online?
You can read my top recommendation below.
If You Are Tired Of Scams & Products That Under-Delivers. My Free Guide Will Be A Greater Help. I Know This Because The Same Process Helped Me To Become My Own Boss.

One Important Thing I Noticed On Some Review Posts
---
Doing your research is the best way to find legit and genuine programs and stay away from scams.
Often there are many biased reviews for the products launched on the WarriorPlus platforms. People just write reviews to promote that product as a result they are going to give those products with high ratings.
There are some genuine reviews as well. However, unbiased reviews are less in numbers compared to the biased review posts.
When you make your purchase decision based on the reviews you read you need to be careful.
I'd like to inform you that I am in no way associated with Shotoku System and I am not trying to sell Shotoku System.
STEP BY STEP MAKE MONEY ONLINE EMAIL COURSE – FREE TRAINING
Shotoku System Sales Page Claims
---
You can find the claims made on the Shotoku System sales video/page below…
Shotoku is an all in one solution.
Shotoku is a complete system
Shotoku generates assets, traffic, and monetization in less than 5 minutes.
If you implement the software, and it doesn't make you money within 48 hours… We'll give you DOUBLE your money back.
Let's see if Shotoku System lives up to these claims.
Before we dive into our review I would like to introduce you to my FREE GUIDE "A Beginners Guide To Making Money Online – Be Your Own Boss!". Anyone can build an online business from home by using my FREE make money online Guide, because it shows you how to turn your Passion into Profits.
What Is Shotoku System?
---
Shotoku System provides you with 50 assets, free traffic, landing pages, and monetization. 50 assets are the freebies you can give to the people in order to get them on your list so that you can promote your affiliate products.
About The Creators
---
Brendan Mace is a product creator who has launched many products. He shares his experience and the ways he makes money online by launching different products and promoting different products.
Some of the Brendan Mace products I have reviewed, Printly, Banger Method, The Clones & Passivly.
A Look Inside Shotoku System
---
Here is the look inside of Shotoku System.
Welcome
Digital Assets
Cosmetic Surgery
Parenting Through Divorce
Home Brewing
Internet safety book
Planning your own retirement
How to Stop Smoking for Good
Vegan Cooking Ebook
Catching Your Cheating Lover
Swimming Pools and Spas
Cashing In With Mini Storage Auctions
Start Your Own Day Spa
10 Day Detox
Erectile Dysfunction
Raw Food Diet
Lapband Surgery (the list goes on)
My Pages
Instant Traffic
The Source
How Shotoku System Works? 
---
On their sales page, they claim that all you need to do is the below 3 steps…
Step 1 – Done For You
Step 2 – 1-Click Monetisation
Step 3 – Free Traffic Tap & PROFIT
Just 3 steps, everything is done for you, activate the software and earn money, etc. These are some of the statements often you can see on most of the sales pages. They make it very simple but that's not the case.
Although you have the landing pages and 50 assets the main challenge is in driving traffic. That's going to the big challenge (more on this later).
Upsells
---
Front-End Product – Shotoku System – $17.03
Upsell 1 – The Platinum Edition – $37.00
Upsell 2 – DONE FOR YOU – $197.00
Upsell 3 – The Source – $97.00
Upsell 4 – UNLIMITED TRAFFIC – $197.00
Upsell 5 – Licence Rights – $167.00

Pro's and Con's
---
The Good:
→ 30-Day Money-Back Guarantee
→ Real Owner
The Bad:
→ Upsells
→ They Are Hosting For You – You Are Not In Control
→ You Need To Have A Big Social Media Following
Is Shotoku System A Scam?
---
No, Shotoku System is not a scam. They do provide you with the 50 assets and lead pages. Also, they are providing you with a 30-day money-back guarantee.
However, you can find some of my concerns below…
Upsells
I am not a fan of upsells. With Shotoku System you have 5 upsells. I believe when there are many upsells the front-end product is not a complete one. In order to get the full value, you need to buy their upsells.
The upsells are quite expensive.
Total Upsells Value – $695
There are a lot of better options that provide you with complete training, tools, and service to build your online business from scratch at a cheaper rate. You can check my top recommendation.
You Need To Have A Big Social Media Following
You can have nice looking landing pages and assets but the main thing that's going to decide your success is the traffic.
The real challenge with Shotoku System is the traffic. The instant traffic they are talking about is social media traffic.
All you are going to do is just share your landing pages on your social media platforms.
Without a big following, it is going to be hard to drive traffic. Also, the conversion rate of free traffic from social media platforms is very low.
Value
They are claiming that…
50 Shotoku Assets – $100 Each That's an expense of around $5,000 to outsource.
The 50 assets they are providing are just PLR's and I don't think those assets are worth of $100 each.
In the past, I have purchased one product called The Clones from Brendan Mace. That product also came with the same claim that they will host all the pages.
The Clones Under-Delivered
After my purchase of the clones, I waited for the promised splash pages for 2 weeks nothing happened (They promised to deliver it in 24-72 hours).
Since I didn't receive it. So I asked for a refund and it took another 2 weeks and finally, I got it.
You might think Paul, it's a rare case, once in a while this happens and hard luck it happened to you. No, As a team we bought the clones nearly 8+ people (My Friends) from different countries, the story is the same with everyone so we applied for a refund.
You can read my "The Clones" review HERE. I wrote that review on 7th July 2018.
However, I got a refund without any difficulties after sending a few emails.
Thanks for reading my review post!
Fed up of buying products after products?
Just one platform you have everything you need to succeed online. No hype no unrealistic claims, no upsells, 24/7 support, weekly webinars, step by step training from scratch, unlimited resources, and study materials.
My Earnings
---
Often people ask me is it really possible to earn $100+ in a single day. The answer is YES! My Highest Per Day Earning is $175 In Affiliate Marketing. See the proofs below.

Looking for the latest one?
Back To Back Earnings Within A Few Hours…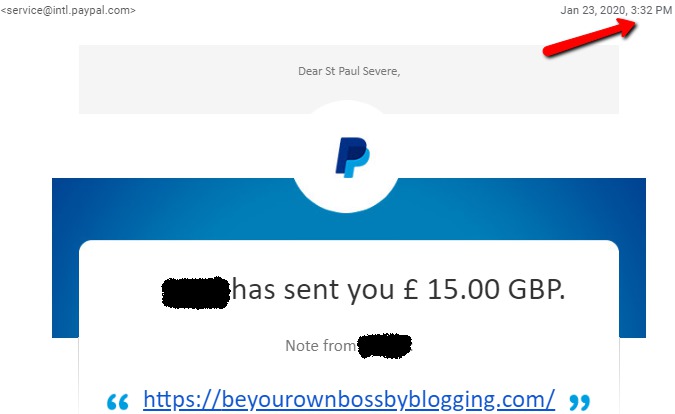 Within a few hours another payout…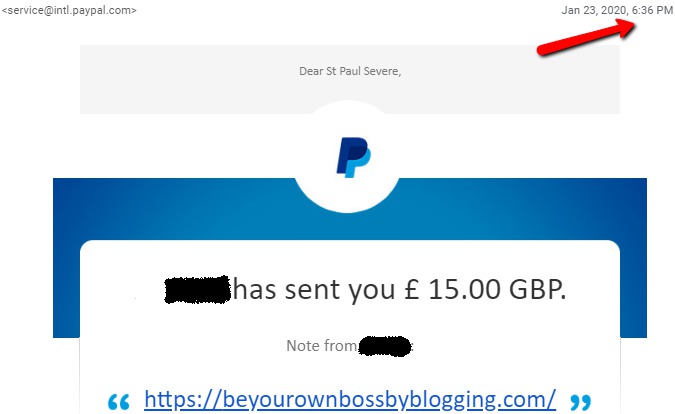 What about recurring income every month?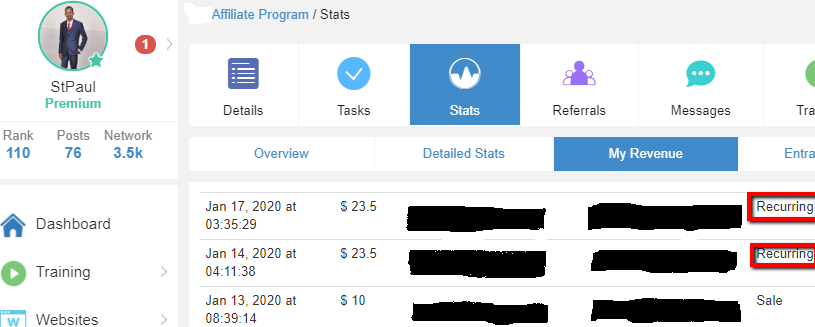 How I Make Money Online?
---
"Success Is A Learnable Skill. You Can Learn To Succeed At Anything." — T. Harv Eker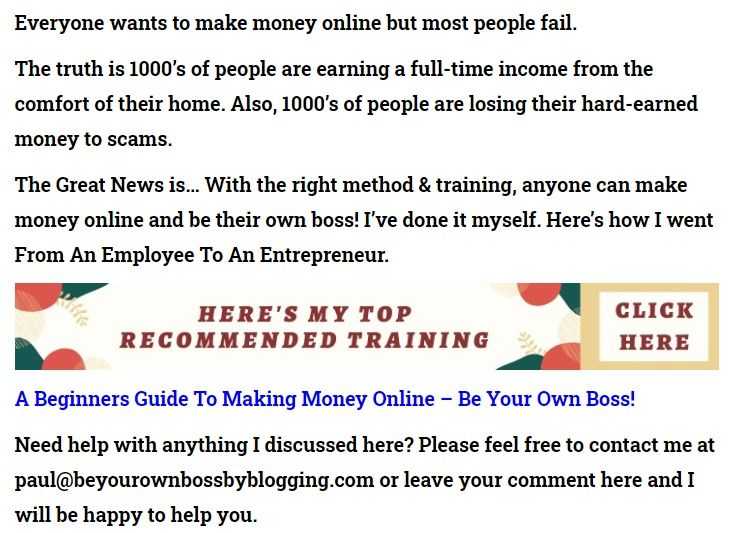 "Affiliate Marketing Has Made Businesses Millions & Ordinary People Millionaires." – Bo Bennett
Are You Interested To Find Out How I Turned From An Employee To An Entrepreneur?

Your Friend,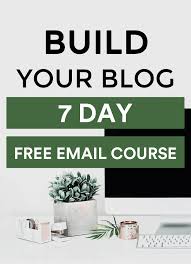 Sign Up To My FREE Make Money Online Email Course…
Learn To Turn Your Passion Into Profits!
Learn To Turn Your Interest Into Income!