Dear Friend,
In this post, I am going to discuss an important topic and I am sure often we use to say this or feel it "I am sick of my job".
When we say this? At least on Mondays before going to work or when our leave is not approved or when we are not able to take care of our loved ones in their need or when we are not paid the full credit for our efforts or when feel we are doing a daily routine and it's boring. Here is my question Are You Sick Of Your Job – Is Your Job Making You Sick Book?
If you felt like saying YES to any of the above statements I have good news for you! Keep reading my post…
Sharing My Experience
---
I felt the same at one stage in my regular job. Before a few years, I was earning a very good income and I am happy about my financial growth. I was working in a call center job. Where we use to make outbound calls or cold calls oops! I was calling customers to switch their gas and electricity. I earned a lot of lessons in my call center job it is not an easy thing to do right?
By GODS grace I was able to make reasonable sales, I was working for nearly 6 years in the night shift and at one point of time my health was not supporting I was struggling with my health but I do understand I need to listen to my health and pay attention to it. on the other end my mom was also struggling with her health I need to take care of her (I am the only child to my mom and my father is no more).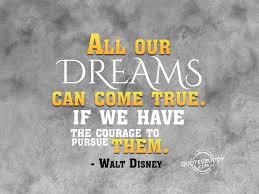 Back To My Hometown & Day Job Pay Is Very Less
---
Call center jobs are not available in my hometown so I joined a data entry company where the pay was not even 50% of what I earned in my call center job. But I got a chance to learn more and got exposure to new things. I felt like I went back and starting my career again. A bit afraid of my career and was thinking about what next.
Because if I am going to work for the next 5 years also I am sure I am not going to earn what I earned in my call center job I want to earn the same income that I earned in my call center job in my hometown.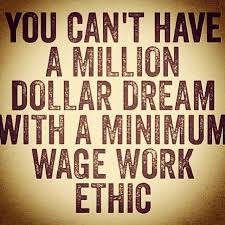 Searching For Work From Home Jobs
---
My passion is to earn money online and I want to establish my own online empire. Before joining the call center job itself I tried many online money making programs and things went wrong. To be honest there are too many scams online and I was keep searching for the genuine one.
After doing a lot of research on Google I came to know that one of the genuine ways to earn money is by blogging. But I am not sure how to do it and where to start, so I was searching for a place to learn blogging a genuine platform finally I discovered it.
Final Try – Taking Risk
---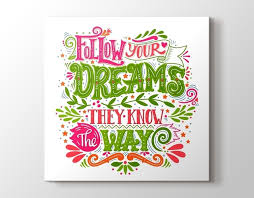 Since I lost a lot of money (According to my financial situation it's a lot of money) I was really afraid of trying it because I need to pay it's not a free program. I happy with my research and I am confident they are genuine but afraid of past bad experiences. Accepting the risk and gave my final try.
Started Part-time Blogging – Learning Curve
---
I started to learn blogging, after finishing my day job I will work on my blog I continued this for one year. I learned a lot of true success stories and got friendships with like-minded people who are making real money and being their own boss.

I was working in my blog for 4 months with earning one dollar and in the fifth month, I earned my first online money $8 I felt like flying in the sky. No words to explain it and I was not able to sleep.
From Part-time To Full-time Blogger
---
In one year things changed I was able to quit my day job and started to work from home. Now I am a full-time blogger. The reason I am sharing my story it's a true story is to encourage you saying "If I can do it you can also do it". I am here to help you and I was there in your place and searching for help and guidance.
So here is my advice to build your own online business.
Change Your Mind-Set And Believe In Yourself
---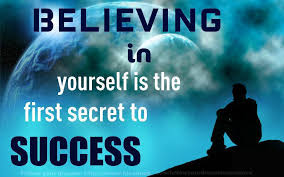 First answer my question, is that you are planning to work on your current job and willing to work for someone until you retire. If your answer is "yes" that's good but if the answer is "no" and you want to be your own boss, then you need to change your mindset and belief.
What to believe? Believe in yourself, believe it's possible to earn money from the comfort of your home, believe it's possible to be your own boss. If you get negative thoughts to get rid of it and also get rid of the people who discourage you.
Have A Plan
---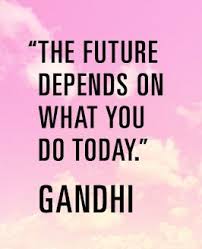 I am not asking you to quit your job. All I am asking is to start it as a part-time job if you are not changing anything obviously you are going to get the same results. If you are sick of your job and realize you don't want to stay there till you retire have a plan.
Start your part-time blogging career and work on it. Do remember before you start your earning you need to go through the learning. If you are not ready to work hard blogging is not for you. It takes work I repeat it "It takes a lot of work to succeed online" but all I am telling is "It's worth the efforts"
Turn Your Passion Into A Thriving Business
---
You don't need to worry or confuse yourself on what business to start. If you have a passion I have a business for you. First, identify your interest and you can build your business on it. Here is the blueprint for your business success.
Choose an interest.
Build your blog on your interest.
Attract visitors.
Earn money.
Investment
---
There is no free lunch in this world. The best thing about blogging is you can start your business with very less investment. In order to start your own business, you need to invest a lot of money but the advantage of blogging is it won't cost much. All you need is a laptop/desktop with an internet connection and with a small investment. That's it you can start your blogging business.
Training For Blogging
---
Without proper training and guidance, it's really very difficult to achieve success. We need to learn how to earn online. There are 1000's of online programs on Google claiming that they can teach you about blogging but the problem is most of the training are not worth it. I did a lot of research to choose my learning platform so you can save your time.
If you want to earn money online I would strongly recommend Wealthy Affiliate which is my number one recommendation and you can read my wealthy affiliate review HERE
Blogging Is Not A Get Rich Quick Program
---
The truth is blogging is not a get rich quick program but it's a slow rich program. With proper training and consistent effort, you can reach greater heights which you have never dreamed. No one is going to come and change your life it's in your hand and you need to change it.
"Do remember you are not here to be an Average"
If you are interested in building your free website you can click HERE. To know more about blogging ideas click HERE.
Take Action Now
---
I came across many of my blogging friends often worried and saying this sentence "I wasted my time and if I would have started my blogging earlier I would have achieved this success couple of years before".
To be honest I do feel the same instead of starting my blogging career on the 26th of November 2016 if I would have started it in 2014 I would have doubled my success now. So I advise you to take action I am talking about what I know and what I have seen so you can take my words. Blogging will help you to be your very own boss.
If you don't find a way to make money while you sleep, you will work until you die. – Warren Buffet
This article might be one of the many articles you read online or this article will be the turning point in your life. It's up to you and it's based on the action you take.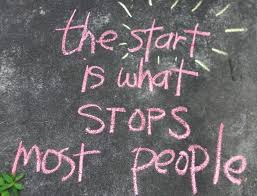 Final Thoughts
---
Hope this post gave you some motivation from my own story a true story, my friend it's really possible to be your own boss and live the life you want. But for that, you need to work hard.
If you are interested in building your online career and want to earn money online below details will help you.
Take Action – Learn how to turn your passion into an online business. Learn how to build your own website and how to earn from it. Learn how to be your own boss by blogging. Learn from the great community with like-minded people helping, teaching, and guiding each other for success. Learn affiliate marketing and many ways to earn online.
To learn and earn online all you need to do is take action (By Joining) and follow the training. Do remember…
My Earnings
---
Often people ask me is it really possible to earn $100+ in a single day. The answer is YES! My Highest Per Day Earning is $175 In Affiliate Marketing. See the proofs below.

Looking for the latest one?
Back To Back Earnings Within A Few Hours…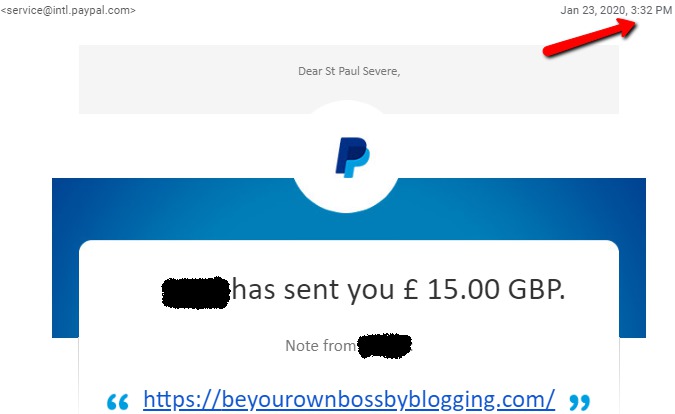 Within a few hours another payout…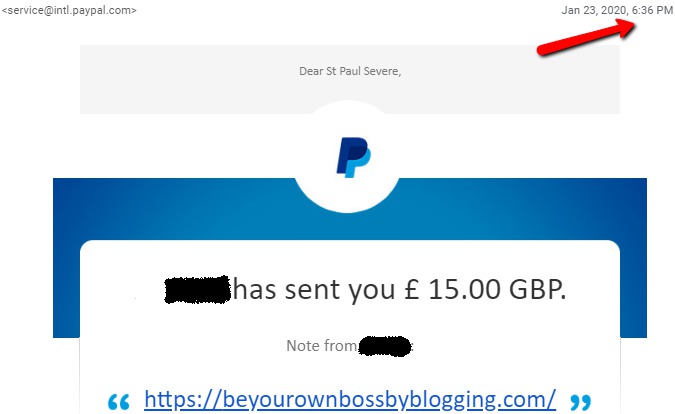 What about recurring income every month?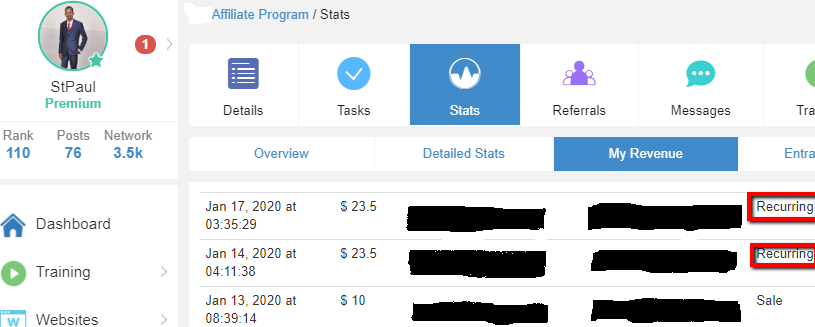 How I Make Money Online? 
---
"Success Is A Learnable Skill. You Can Learn To Succeed At Anything." — T. Harv Eker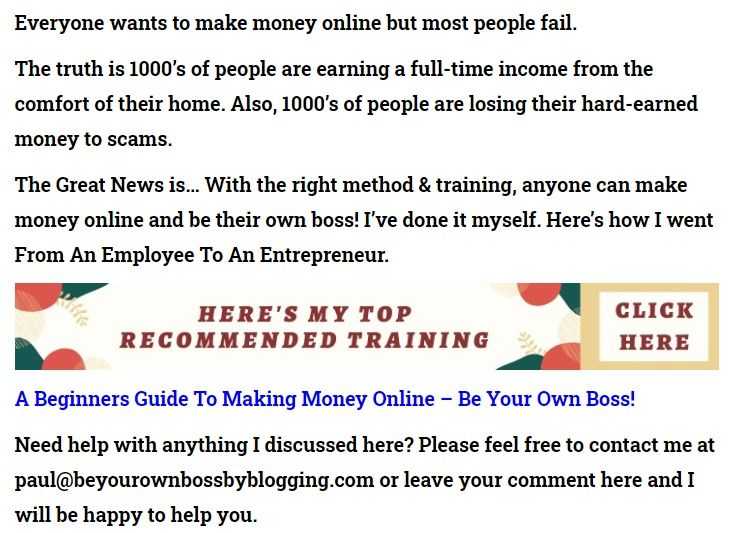 "Affiliate Marketing Has Made Businesses Millions & Ordinary People Millionaires." – Bo Bennett
Are You Interested To Find Out How I Turned From An Employee To An Entrepreneur?

Your Friend,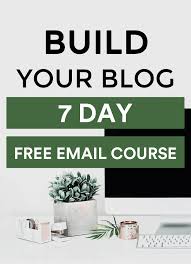 Sign Up To My FREE Make Money Online Email Course…
Learn To Turn Your Passion Into Profits!
Learn To Turn Your Interest Into Income!