Dear Friend,
After hours of reading and research, I am writing this important post. This post will give you an answer to the question Are We Heading To Another Financial Crisis Globally In 2018? I am sorry if the title is scary and you don't want to know or hear the answer it's okay. But by reading this post I strongly believe you are going to get new insights and the solution to the problem.
Do You Remember The 2007-2008 Recession?
---
Ah! How can we forget that and the damages it did to many lives? The outcome of 2007-2008 recession Jobs were lost, companies folded, Governments struggled. I felt really bad and I don't wanna recall it. But many people said they didn't expect it, they are not aware of it, recession suddenly happened, etc.,
The truth is the 2007-2008 recession was predicted before by experts. We didn't paid our attention to it so we didn't prepared for it. Experts are saying we are not yet fully recovered from the 2008-2009 recession. And few experts are stating we are already in a recession only but we are not aware of it. What majority of the experts predicting?
Is Another Global Financial Crisis Coming?
---
To make it simple the answer is YES (I am sorry to say that I too felt bad after knowing this). As like the 2007-2008 recession was predicted before by experts, many experts are predicting and warning us again of a global financial crisis.
Several Economic indicators point towards a decline in economy and business. The bad news is analysts and journalists across the world are starting to warn us of an impending crash that could be even worse than the one we experienced in 2008. Dear friend wake up!
Who Are The Experts Predicting The Financial Crisis?
---
Well many, while doing research I came across a blog post at the Verso blog where great scholars of economics and finance are addressing the question "Are We Heading for Another Economic Crash?"
Most of them agree that the underlying causes of the 2007–2008 financial crisis were never fully addressed and that current conditions resemble in alarming ways the run-up to that collapse.
Here is the list of few scholars who said we are marching towards a financial crisis…
Minqi Li – Professor of economics at the University of Utah. His recent books include The Rise of China and the Demise of the Capitalist World Economy (Monthly Review, 2009), Peak Oil, Climate Change, and the Limits to China's Economic Growth (Routledge, 2014), and China and the Twenty-first Century Crisis (Pluto, 2015).
Mary Mellor – Emeritus Professor in the Department of Social Science, Northumbria University, UK. Her recent books include The Future of Money: From Financial Crisis to Public Resource (Pluto, 2010) and Debt or Democracy: Public Money for Sustainability and Social Justice (Pluto, 2015).
Tim Di Muzio – Associate Professor in International Relations and Political Economy at the University of Wollongong, Australia. author of The Tragedy of Human Development (Rowman & Littlefield, 2017).
Dario Azzellini – Visiting research fellow at the ILR School, Cornell University (Ithaca). Recent publications include Communes and Workers' Control in Venezuela: Building 21st Century Socialism from Below (Brill, 2017)
Richard Murphy – Professor of Practice in International Political Economy, City, University of London. He blogs at Tax Research UK.
Michael Roberts – Marxist economist who has worked in the City of London for over 30 years. He is the author of two books: The Great Recession: A Marxist View (Lulu,2009) and The Long Depression (Haymarket, 2016). He blogs at thenextrecession.wordpress.com.
Lena Rethel – Associate Professor of International Political Economy at the University of Warwick and Visiting Fellow at the Oxford Centre for Islamic Studies. Author of The Problem with Banks, with Timothy J. Sinclair (Zed Books, 2012). Lena is a member of the I-PEEL: the International Political Economy of Everyday Life pedagogic initiative.
These are Eminent scholars know what they are speaking.
Donald Trump said in an interview that economic conditions are so perilous that the country is headed for a "very massive recession" and that "it's a terrible time right now" to invest in the stock market, embracing a distinctly gloomy view of the economy that counters mainstream economic forecasts. (Source – The Washington Post April 2, 2016)
Major Worries
---
Although the experts are predicting, on the other hand, there are many things in front of our eyes warning us. They are…
Banks are struggling – You might see that on news.
Many big companies are in debt and some big companies are closed.
Political Instability – This is the resent condition in many countries.
Unemployment – This is a major problem all over the world.
Corruption – This is a big threat.
Volatility of stock market and oil prices.
Business and Investor Summit Singapore 2017
---
One of my dearest friends Jerry Huang attended this seminar. Other than Robert T. Kiyosaki who is the main speaker of the event, there are 6 other guest speakers that are invited to the event.
Tom Wheelwright (Tax) – Tax Expert & Robert Kiyosaki Advisor.
Peng Joon (Internet Marketing) – World's Leading Authority in Wealth Creation Online.
Sandy Jadeja (Trading) – Chief Market Strategist & International Trading Educator.
Andrew Cordle (Real Estate) – Self-taught Real Estate Investing Expert.
Jonathan Por & Grace Lim (Business & Entrepreneurship) – Founder of PIF Capital, Business Consultants, and Speakers.
All the speakers at the event are foreseeing a market crash that is way more critical than the 2007 financial crisis. Below is the picture of Robert Kiyosaki predicting the market crash.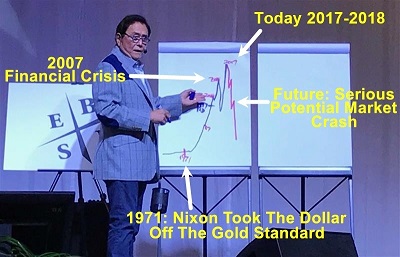 When It's Going To Happen?
---
To be honest the answer is in the future, any time. So I will request you to take preventive measures and there is no harm in taking a preventive measure. Deliver the best and get ready for the worst. So if you are ready and prepared to manage the worse anytime you are in a safer zone. Am I making sense?
Preventive Measures
---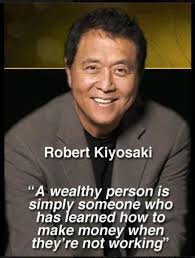 MSI – Multiple Source Of Income that is creating more than one income stream is the best way to get out of a financial crisis. Do you have a multiple source of income? You can also read my post on Multiple Source of Income HERE it will give you more insights on MSI. Below are the few preventive measures…
Create multiple source of income. (If you are interested I can help you in building your own online business which will be a source of creating multiple source of income)
Reduce your expenditure cost cutting.
Know your debts and plan to pay it off. "Debt Free" needs to be your primary goal.
Save money.
Have a budget.
Plan Plan Plan and Implement all the things on your list. Be smart and take measures right now prevention is better than cure. Financial Freedom is the ability to live the lifestyle you desire without having to work or rely on anyone else for money. I want you to be your own boss and be financially free. Are you ready?
Final Thoughts
---
I hope this post Are We Heading To Another Financial Crisis Globally In 2018? gave you some serious thoughts to think and take action. Yes, you have the right to reject the information I presented or to take it serious and build MSI to be on a safer side.
"When the economy is uncertain, it's time to get defensive."
The best way to do that is to increase your income by having multiple sources of income and reduce your spending. Building up your savings is the key. It's not how much we earn makes us rich, it's how much we save makes us rich.
We have responsibilities and we don't want our loved ones to struggle at any time. You need to make yourself recession-proof right away so if the predictions do come true, you reduce the negative effects and hopefully survive until the economy recovers again. I will strongly recommend you to start an online business and establish your own business.
If you are interested in building your online career and want to earn money online below details will help you.
Take Action – Learn how to turn your passion into an online business. Learn how to build your own website and how to earn from it. Learn how to be your own boss by blogging. Learn from the great community with like-minded people helping, teaching, and guiding each other for success. Learn affiliate marketing and many ways to earn online.
To learn and earn online all you need to do is take action (By Joining) and follow the training. Do remember…
My Earnings
---
Often people ask me is it really possible to earn $100+ in a single day. The answer is YES! My Highest Per Day Earning is $175 In Affiliate Marketing. See the proofs below.

Looking for the latest one?
Back To Back Earnings Within A Few Hours…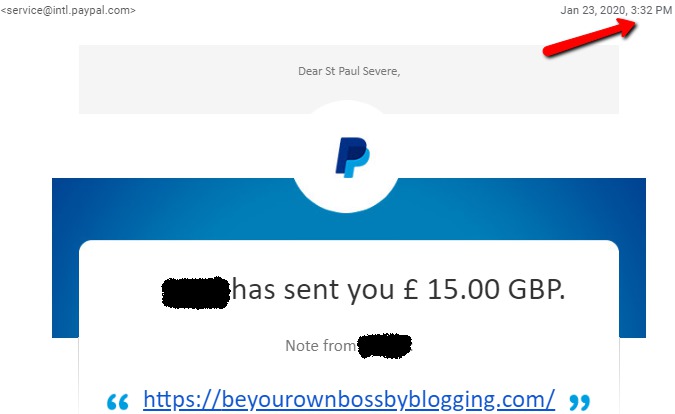 Within a few hours another payout…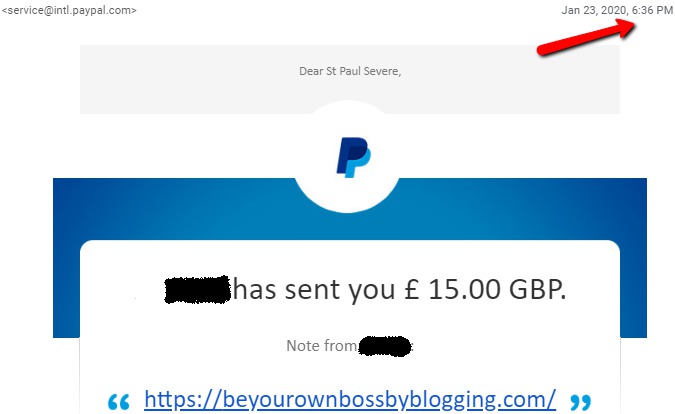 What about recurring income every month?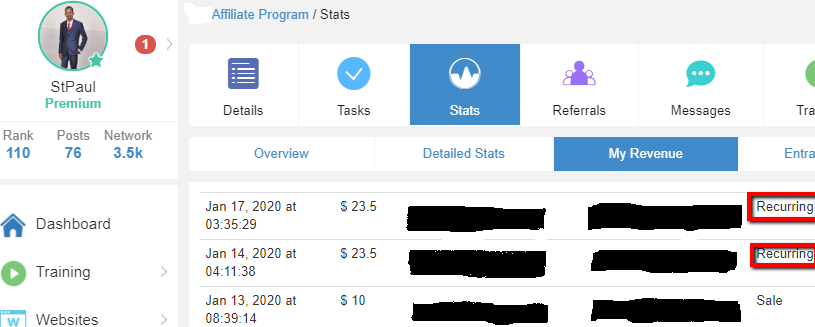 How I Make Money Online? 
---
"Success Is A Learnable Skill. You Can Learn To Succeed At Anything." — T. Harv Eker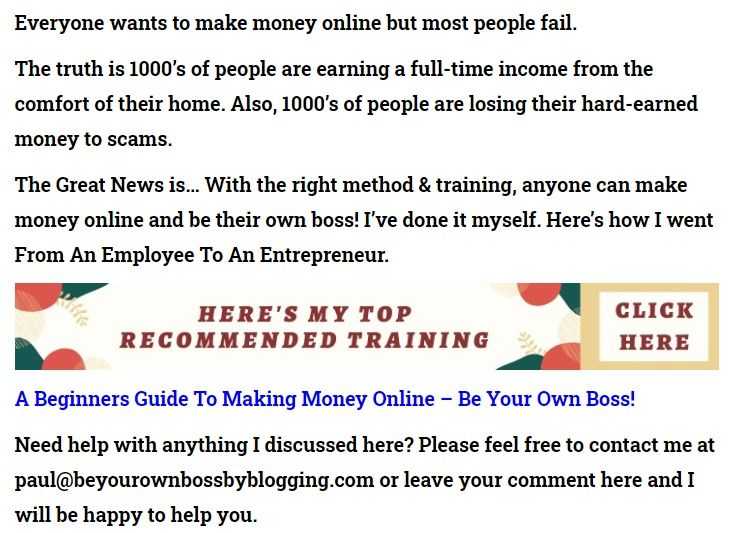 "Affiliate Marketing Has Made Businesses Millions & Ordinary People Millionaires." – Bo Bennett
Are You Interested To Find Out How I Turned From An Employee To An Entrepreneur?

Your Friend,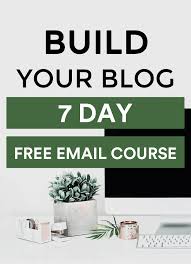 Sign Up To My FREE Make Money Online Email Course…
Learn To Turn Your Passion Into Profits!
Learn To Turn Your Interest Into Income!