Dear Friend,
In this post, I am going to share havemoney.club review from my own experience. As like my other reviews, I am not going to give you a lot of information or discuss it elaborately. I am going to make it very simple so that you can save your precious time.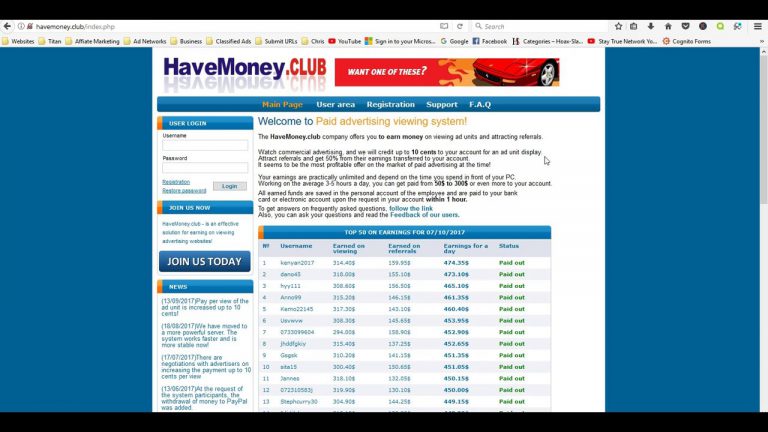 If You Don't Want To Waste Your Time On Scams And Products That Under-Delivers With Low-Quality, See My #1 Recommended Way Of Making Money Online

How I Came To Know About This Site?
---
I received a message to my WhatsApp number stating I can make more money online with this website as an author I strongly believe it will be great to have my own experience before I write a review about an online money-making product so I joined it and gave it a try.
Are you serious about making money online?
Turn your interest into income and passion into profits!
What We Need To Do For Joining?
---
We don't need to pay anything it's free to join all we need to do is create a username and password along with our email address. You can see the signup page below.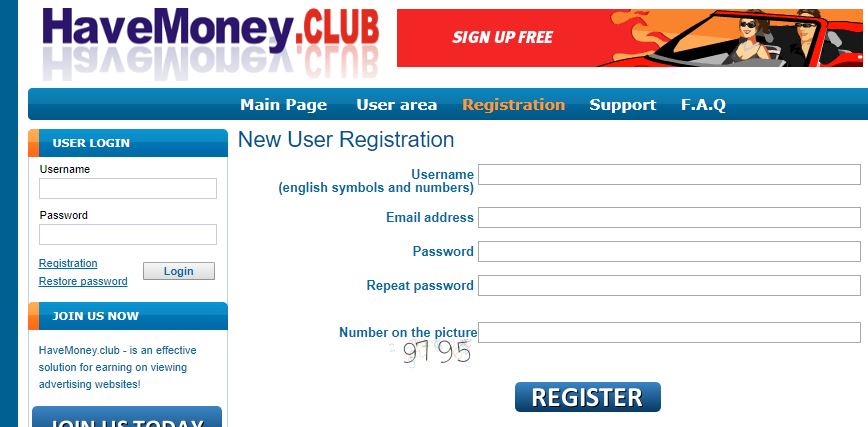 What Is The Actual Work We Need To Do?
---
It's very very simple all we need to do is type the numbers shown above anyone can do this. For this simple work, you will earn $0.10 per ad unit. Just see the below screenshot.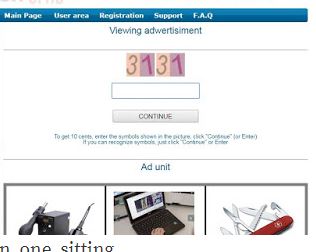 All you need to do is type 3131 in the box for that you will earn $0.10. Sounds easy ah?
My Own Experience With havemoney.club
---
I registered with the website. I started working when I reached $10 I tried to cash out… I got a pop up…
Pop Up 1
---
"You need to reach $150 for cash out".
Hmm okay I continued my work after few hours I reached $160 and again I tried to cash out… There comes the second pop up.
Pop Up 2
---
"You need to refer minimum 40 referrals to cash out"
Getting 40 referrals is not that easy, to be honest. I was a bit shocked ten referrals itself is a challenging task but 40 referrals…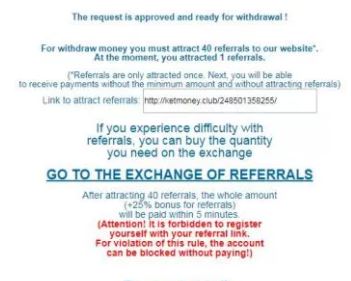 Oh my GOD!!! I was not happy but you know what I wanted to give a try for that as well. I contacted my friends I shared my referral link with them and it taken 3 days for me to attain 40 referrals. Finally, I achieved 40 referrals and tried to cash out. There comes the third pop!!!
Pop Up 3
---
"In order to receive your money quickly send us a payment worth of $10 in bitcoin or else wait for 1 to 2 months".
In order to pay us for our work if a company says, send us some money so that we will process your payment quickly what you will think about that friend?
I was not really happy and I thought okay let us wait, but you know what happened? After 3 days I tried to login but oops!!! My account was deleted due to inactivity. See the screenshot below. I tried to change my password also and tried to login there is no way my username and password is incorrect because whenever I register I will make a note of my username and password.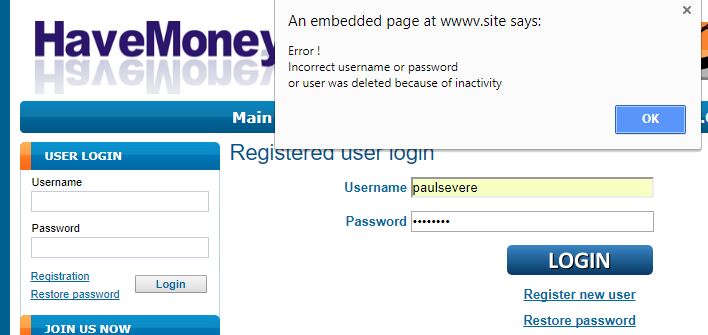 Also I came to know that they have multiple websites with the same type, to name a few (I came to know this from my referrals and browsing on net)
ketmoney.club
wotmoney.club
duhmoney.club
votmoney.club
normoney.club
ruzmoney.club
gatmoney.club
bezmoney.club
limmoney.xyz
repmoney.club
lpgmoney.club
figmoney.club etc etc etc
The list goes on…. if you open and see those websites you will get your own idea and you will come to the conclusion.
The Pain Part
---
I personally tried a number of programs claims you can earn money but at the end of the day, that's not the case, in this program alone see what I came through…I invested my time (for typing alone it take nearly 3 hours), I contacted nearly 50+ of my friends and explained to them and clarified their doubts, nearly 3 days I spent on this program. Of all-knowing all my efforts went in vain there is no word to explain the pain part…
You know what after I realized this is not a genuine program I again contacted my friends to inform them so that they don't waste their time and energy.
My Earnings
---
Often people ask me is it really possible to earn $100+ in a single day. The answer is YES! My Highest Per Day Earning is $175 In Affiliate Marketing. See the proofs below.

Looking for the latest one?
Back To Back Earnings Within A Few Hours…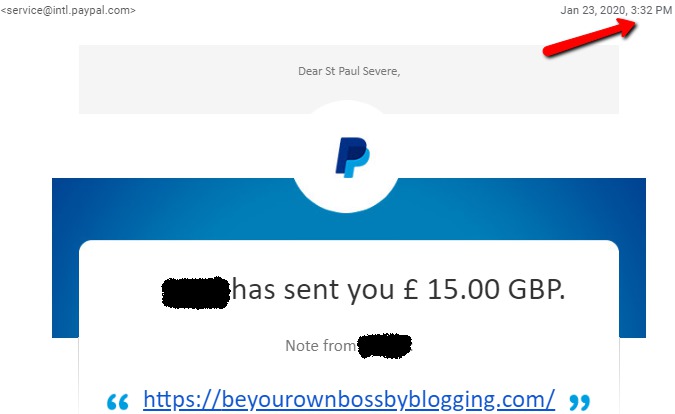 Within a few hours another payout…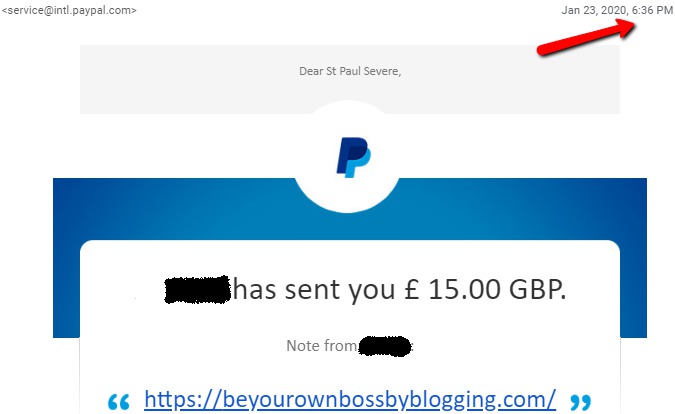 What about recurring income every month?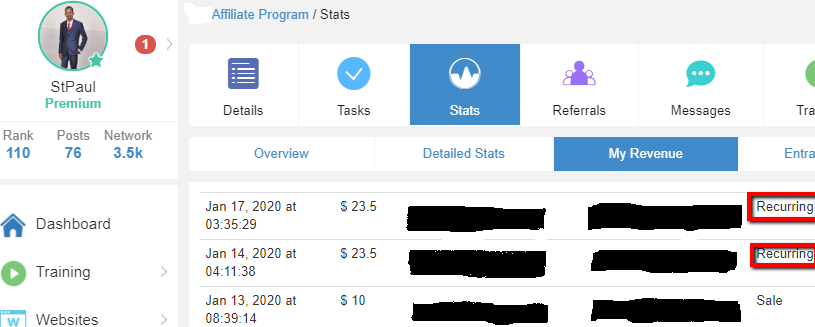 How I Make Money Online? 
---
"Success Is A Learnable Skill. You Can Learn To Succeed At Anything." — T. Harv Eker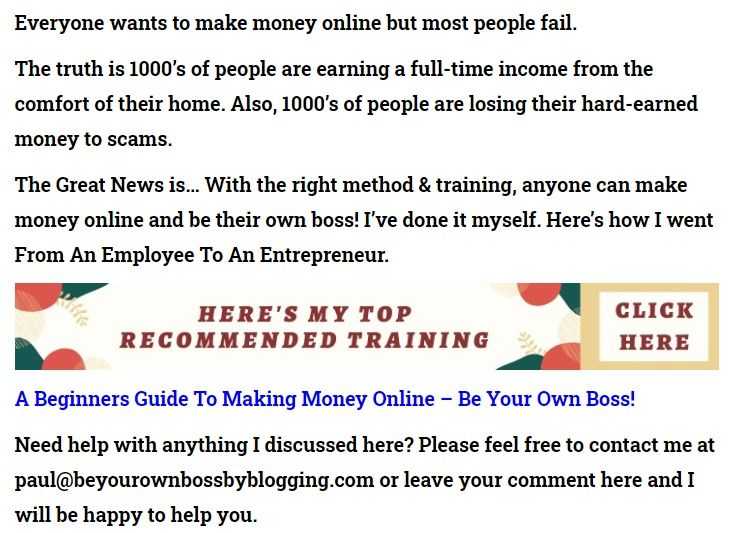 "Affiliate Marketing Has Made Businesses Millions & Ordinary People Millionaires." – Bo Bennett
Are You Interested To Find Out How I Turned From An Employee To An Entrepreneur?

Your Friend,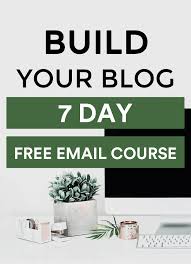 Sign Up To My FREE Make Money Online Email Course…
Learn To Turn Your Passion Into Profits!
Learn To Turn Your Interest Into Income!