Dear Friend,
Every blogger is keen and interested in maximizing the impact of their blog. And they want it to be very successful. In this post I am going to walk you through the process on How to Maximize the Impact of Your Blog. By implementing the below information you can grow the impact of your blog.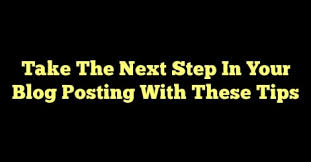 Having a blog is almost an essential in modern business and this blog is no different. Customers don't just want your products, they also want to hear a little back story and think about what has gone into your business, especially when you are dealing in such beautiful vintage and foraged items.
However, just having a blog is not necessarily going to work perfectly. You also need to put some time into crafting the blog posts and outreaching them to make sure that they are working as well as possible. Once you understand the optimization process, you will see a much bigger impact on your business. This is an affiliate contributed post. That means that Paul did not write the entire post.
How to Write An Awesome Blog Post
---
The key to writing any blog post is to have a clear title (see above!) and then to make sure that every point you make leads back to that aim. Clarity in writing is definitely the most important thing because almost no one is going to try and battle through long sentences and still have no idea what you meant. Shorter sentences are always better.
On Average, Five Times As Many People Read The Headlines As Read The Body Copy – David Ogilvy
Quality Content
Don't write big paragraphs, it is advisable to have 3 to 6 lines in a paragraph. Make your post conversational like talking to one person. Don't address like you are talking to a multitude. Always provide quality content and don't write content for the sake of writing it. Your content needs to add value to the readers.
The below ways are proven ways to write an effective blog post…
Address the problem.
Solution – Provide them with the solution.
Explain the benefits – Sell them the benefits not the product.
CTA – Call to action (what you want them to do, asking them to take action).
Subheadings
Once you have your main question or title, use subheadings to separate out your text to make it easier to skim through. Most people won't read the whole blog post but will skip to the bits they are most interested in. Give them the chance to skip ahead and they might just go back and read the lot!
Outreaching Your Blog
---
Once you have written the content, you will need to outreach it in order to get views. Though you might think that the more views you get the better, what you are really looking for are the people who are spending more than a few seconds on the page as they are the ones doing the reading rather than skimming and bouncing off.
To get genuinely interested readers, share on social media and create ads targeted at the people you think are most likely to want the information you are sharing. You could also try things like mortgage mailing lists if you plan to create an email campaign to boost your blog's profile a bit more. Whatever you can do to get a wider readership, the more likely it is that your business will do well.
Use Links!
---
Blogs are, in essence, carriers for links. While the writing needs to be interesting and worthwhile, if you don't pop a sneaky link to your shop in at some point, or to another blog you have written, you can't expect your reader to continue looking around your site. Just have a click through the links on this page to see how this works!
Internal links help the customer to know more information. You can link to other relevant blog post on your website for additional information. This also helps in the SEO part because Google (Search engines) likes internal links compared to the affiliate links. Having internal links proves that you have more information to offer the readers rather than just referring them to the affiliate links.
Final Thoughts
---
Optimizing your blog for business is mostly a case of trial and error and you should keep a close eye on your analytics to see how each post does over the course of a month or so. This will show you how your outreach has affected readership and will also indicate which posts have been best for leading people around your website. With this information at your fingertips, you have more than enough opportunity to make every blog a little bit better.
Hope this blog post gave you some useful insights on How to Maximize the Impact of Your Blog. Continuous learning is the key.  As David Ogilvy said "Never stop testing, and your advertising will never stop improving."
If you are interested in building your online career and want earn money online below details will help you.
Take Action – Learn how to turn your passion into an online business. Learn how to build your own website and how to earn from it. Learn how to be your own boss by blogging. Learn from the great community with like-minded people helping, teaching and guiding each other for success. Learn affiliate marketing and many ways to earn online.
MY NUMBER 1 RECOMMENDATION – If you want to earn money online I would strongly recommend Wealthy Affiliate which is my number one recommendation and you can read my wealthy affiliate review HERE
To learn and earn online all you need to do is take action (By Joining) and follow the training. Do remember…
"Success is a learnable skill. You can learn to succeed at anything." — T. Harv Eker
If you would like to join me, you can register here to create your free starter membership. This is where I network with others and offer my help each and every day to people like yourself.
Want To Be Your Own Boss?
Tired Of Working For Someone's Dream?
Interested In Building Your Own Business?

Need help on anything I discussed here on How to Maximize the Impact of Your Blog?
Not to worry I am here to help you, please feel free to contact me at paul@beyourownbossbyblogging.com or leave your comment here and I will be happy to help you.
Your Friend,
Paul