Welcome to my post "10 Blogging Success Stories".
You might have come across a lot of testimonies and success stories online on many products and programs sales pages.
Some testimonies are fake. How do I know that?
I have reviewed 150+ make money online programs and products in this blog. Some product creators hire Fiverr actors to provide testimony to their product.
Some people are aware of it and they wonder…
Are there true success stories online?
Is it really possible to make money by blogging?
Are there real people who succeeded by blogging?
Is it possible to contact them and can I check on their success?
This post will provide you answers to the above questions. The success stories I am going to share is TRUE and REAL. You can check it out by yourself by contacting those people! You can see the proofs!
Some people on the below list are my close friends and mentors. They are amazing & great people and living proofs for blogging success.
Anyone can build an online business from home by using my FREE make money online Guide, because it shows you how to turn your Interest into Income.
DISCLAIMER – These success are not a result of a few days of work. They have invested months of work and effort. They sacrificed a lot of things and worked really hard with great focus and determination.
LittleMama – Grace 
---
Grace is one of my mentor and friend. She is a stay at home mom. She is a mom of two girls & wife to an awesome man, living in the USA.
In 2012, She tried dabbling in a blog but she didn't know what she was doing at the time so eventually she just failed.
But she never gave up and in 2016 joined Wealthy Affiliate. Followed the training to the core and things changed. Now she is a Super Affiliate and an inspiration to 1000's including myself.
Her recent success posts…
New Record: $1,300+ Per DAY! Affiliate Marketing Works & Rocks!
Very recently she made $1,300 in one day. Below you can find her blog post…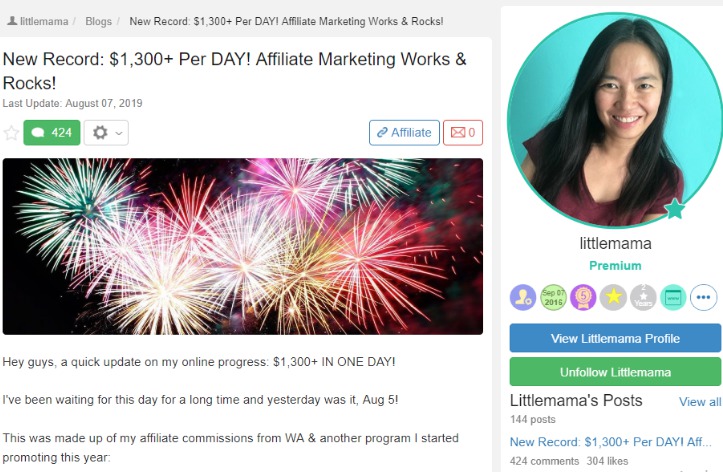 Want to know more details about her earnings?
From January 2019 to June 2019 she made $23.6K! Mind-blowing right? Check her post…
Half Year Update: $9K 2018 vs $23.6K 2019
To read the complete post you can click on the above images.
Jerry Huang
---
Jerry is my close friend and mentor. Can you guess how old he is?
Jerry is from Taichung, Taiwan. He is 21-year-old high school graduate/College Dropout and he is currently living in Taiwan.
He is one of my great inspiration and he is training 100's of people on making money online.
What I am going to share will be very hard to believe. Whether you believe it or not that's the truth.
He made $100K in a week! Can you believe this? Read his post…
$100K Week. Hard Work Paid Off Huge!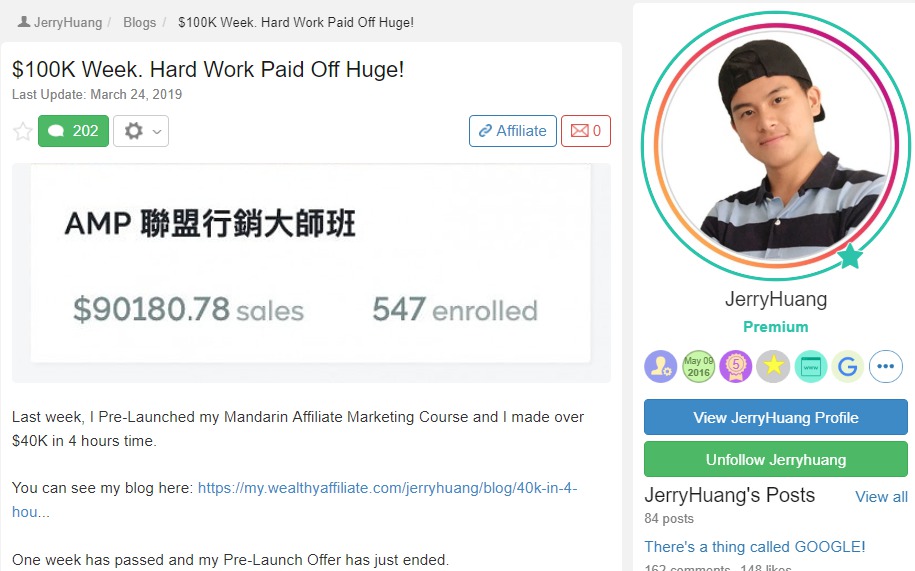 On the month of March 2019 he made $40K in 4 hours!
$40K in 4 Hours! Craziest Night Ever!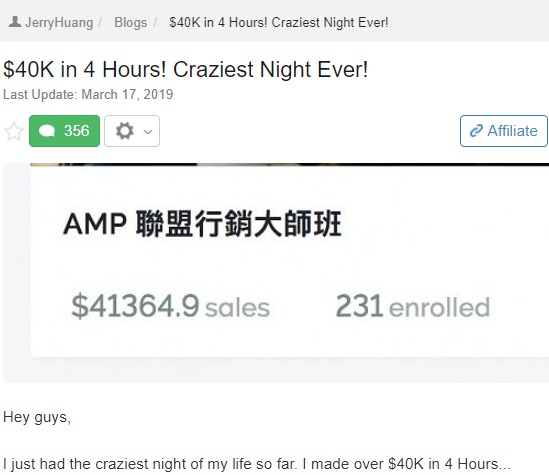 By clicking the image you can read the full post.
What I Recommend? 
---
I do know that you are looking to make money online opportunities.
If you are interested in building your long-lasting and passive income generating online business I can help you.
"If You Don't Build Your Dream Someone Will Hire You To Help Build Theirs." Tony Gaskins
Now the ball is in your court my friend, You're at the point of decision. You can either continue down the path of least resistance, the path you have already been traveling, or you can choose the road less traveled.
The path of least resistance will probably result in you getting the same outcomes you've always received.
But if you want something different to happen, if you want to change the direction of your Finances and be your own boss you're going to have to do something different.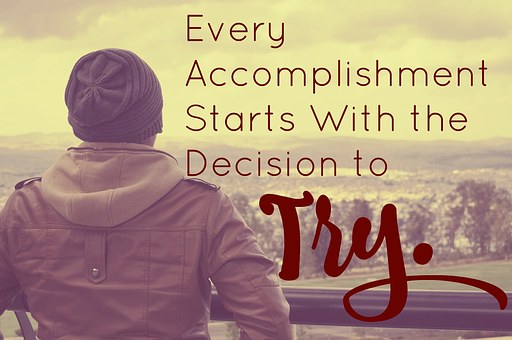 Make a new choice, and pursue your new outcome. This Method is the secret behind quitting my day job and becoming a full-time blogger.
Based on my experience in order to earn money online, the basic thing you need to have is a website (Your Own Website) and one of the best ways to earn money online is by doing Affiliate marketing.
I have revealed in more detail about the method which helped me to become a full-time Affiliate Marketer and how YOU too can do it in my FREE Guide.
I want to share what I found so you can build the online business of your dreams too!
"Affiliate Marketing has made Businesses Millions & Ordinary People Millionaires." – Bo Bennett
If you are interested in learning Affiliate Marketing…
Need help with anything I discussed here on 10 Blogging Success Stories – [True & Real Stories].
Not to worry I am here to help you, please feel free to contact me at paul@beyourownbossbyblogging.com or leave your comment here and I will be happy to help you.
Your Friend,