Welcome to my post on "Ways To Avoid Work From Home Scams Online".
As you know very well the number of Work From Home Scams is increasing on a daily basis. People are falling as victim to these scams.
I do appreciate you for learning about Ways To Avoid Work From Home Scams Online and I strongly believe my post will provide you with helpful insights.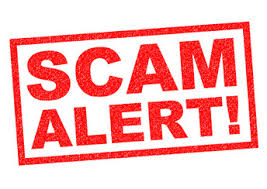 I Have Lost $4,000+ To Scams
---
Since 2008, I have tried many Work From Home programs and products. Unfortunately, many of them under-delivered with low-quality. In total, I lost $4,000+ to scams over the period of 2008 to 2016.
So I know the pain and how it feels to lose our hard-earned money to scams and products which under-delivers.
I am from a middle-class family so $4,000 is a lot of money. I earned that money from my night shift job.
After a long struggle in September 2016, I found a genuine method to make money online as a result since 2017 December I am a Full-Time Affiliate Marketer and Blogger Working from Home.
I created this website in order to help people by providing honest and unbiased reviews to make money online programs and products.
I have reviewed 120+ make money online programs on this website. My main intention is to save people time, trouble, effort, work, and, money by providing them sound advice on the scam products.
Also, I guide people towards genuine programs and products.
Before we dive into our main topic, I would like to introduce you to my FREE GUIDE "A Beginners Guide To Making Money Online – Be Your Own Boss!". Anyone can build an online business from home by using my FREE make money online Guide, because it shows you how to turn your Passion into Profits.
Ways To Avoid Work From Home Scams Online
---
The below information is based on my experience and what I learned over the past 2+ years as an Affiliate Marketer and Blogger.
When you receive a promotional email or you come across an ad or post about a make money online program or product please check on the below information.
Fake Testimonials
---
On the sales pages or sales videos, you will come across people sharing their testimonies. Nowadays, many make money online programs and products have Fake Testimonials.
People sharing their testimonies might be actors. For example, Spokesperson from Fiverr.
They would have never tried the product. All they do is, read the script given to them and they make some money for doing it and not bothered about others.
How you can find whether the person who is sharing the testimony is a real person or actor?
By doing an image search on Google and checking on platforms like Fiverr on the category "video spokesperson".
If you find the testimonies are fake STAY AWAY from that product.
Fake Scarcity
---
Just 5 spots are available!
The Timer will expire in 10 minutes!
The doors will be closed soon!
We are only accepting 10 members!
You won't see this page again!
I hope you have come across the above statements on some sales pages and sales videos. Although it is considered to be a sales tactics it's a LIE.
I have come across many products like this. For example, they will be claiming just 5 spots available and if you go and come back later you won't find this offer…
After 5 months also they will be telling the same, "Only 5 spots available" lol.
If you see these fake scarcity it is better to stay away from those products and programs.
Fake Owner
---
Knowing the history of founders and companies is very important and it will help in knowing the reputation and credibility of the creator.
Many programs won't provide adequate information about the creator and the creator will be hiding behind his product.
I have come across many videos in which they will tell some names and show a photo of the creator. When I do the search that photo is taken Shutterstock.
This is not a good sign and please stay away from those products and programs.
Too Many Upsells
---
Not all the products and programs which have upsells are scams. I am not saying Upsells is wrong.
However, many scam products will have too many upsells. based on my experience and understanding if there are too many upsells means the front-end product is not a complete one.
Hidden Charges
---
Watch out and check whether the product has any hidden charges.
For example, they might claim the product will cost just $37 and that's it you don't need to pay anything.
Once you bought that product then they will tell you to buy additional software, tools, and ask to pay for paid ads, etc.
Too Much Hype & Unrealistic Claims
---
You can start making $5,000 from today!
You can make $2,000 per day!
Shortcut To Earn Up To $4,000 Per Day Or More Starting Today!
Have you come across these claims?
These are just numbers and don't believe in these claims.
Once I read if you want to cheat people, create or induce the love for money in them. Don't you find it hard to digest these claims?
There is no such program called Get-Rich-Quick.
Read The Fine Print & Legal Pages
---
You always need to read the fine print of the product sales pages which will give you some helpful information.
Also, read the disclosure and privacy policy pages. You will get helpful insights.
If you can't find the legal pages then you need to be cautious.
Pushing & Pressurizing To Buy
---
For example…
Do not wait a minute longer.
I can't promise this page will be live for much longer.
Please don't waste any time getting started.
They don't want you to think and they want you to buy or join immediately. Please be careful.
No Work Needed Or Less Work
---
Just 20 minutes of work per day!
Everything Is Done For You, you don't need to do anything!
All you need to do is sit back, relax and watch your income grow!
Don't fall for these statements. Do you want to hear the truth?
The truth is…
In order to make money online, it will take time, effort, work, and patience.
No Clear Information About The Product
---
Some sales pages or sales videos won't talk about the product and about the process. They will just talk about the money you can make, how your life will change, going on vacation, luxury cars, etc.
They are just selling you the dream.
Promising Quick & Easy Money
---
One of my mentors advised me to stay away from the products and programs which promise quick, easy, fast, and immediate money.
If it sounds too good to be true… Runaway from it!
Read The Reviews
---
Before buying the product or program read as many reviews as possible.
Do remember not all the review posts are genuine. Some people write positive and biased reviews in order to promote that product.
Not to worry, there are genuine people also who write unbiased and honest reviews.
Final Words
---
I failed many times so I don't want you to fail and fall as a victim to the scams out there. I learned the lessons the hard way but you can learn it from my mistake.
Without doing your homework don't buy any make money online programs and products. period.
I hope you got some helpful insights. I wish you all the very best! 
Thanks for reading my post!
If you are interested to learn about making money online from scratch I can help you.
"The Great End Of Life Is Not Knowledge But Action" – Thomas Henry Huxley
Action is what unites every great success and action is what produces results. Take Action!
My Earnings
---
Often people ask me is it really possible to earn $100+ in a single day. The answer is YES! My Highest Per Day Earning is $175 In Affiliate Marketing. See the proofs below.

Looking for the latest one?
Back To Back Earnings Within A Few Hours…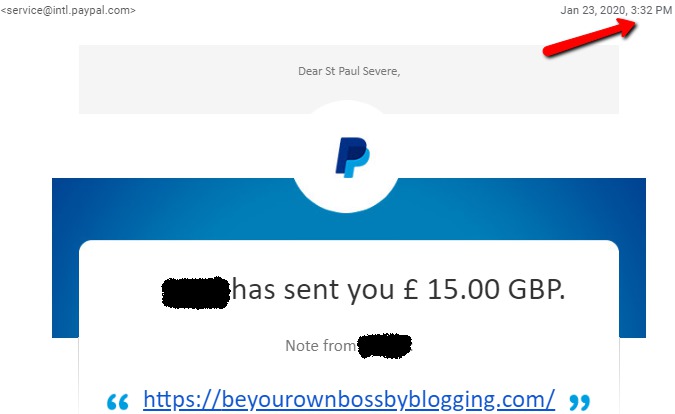 Within a few hours another payout…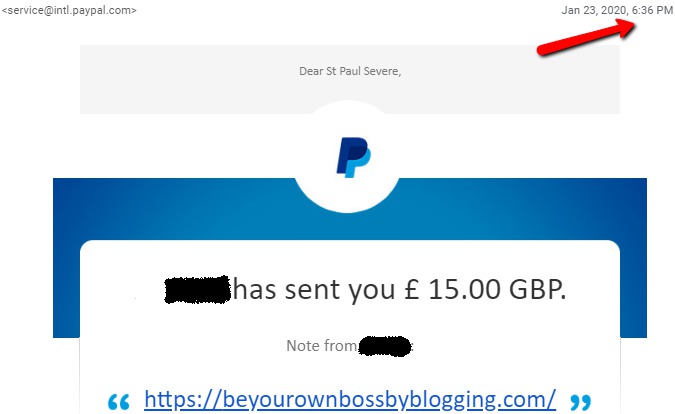 What about recurring income every month?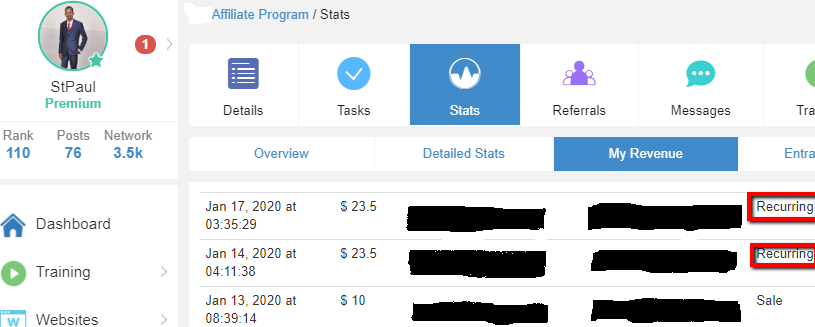 How I Make Money Online? 
---
"Success Is A Learnable Skill. You Can Learn To Succeed At Anything." — T. Harv Eker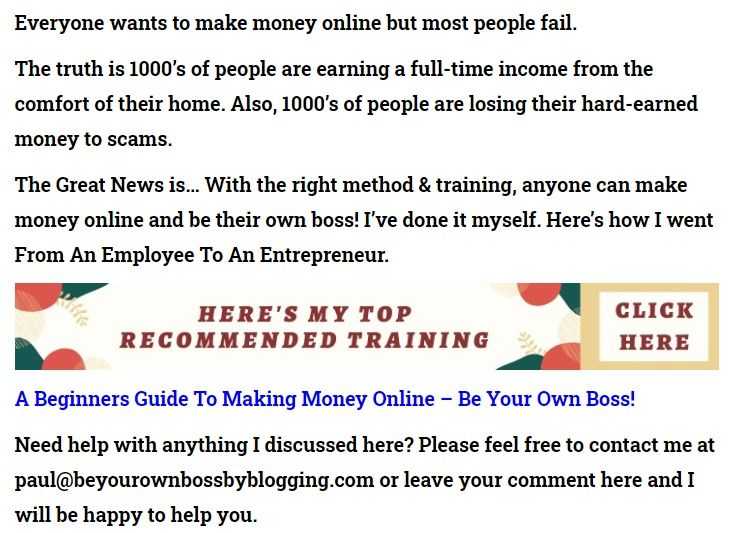 "Affiliate Marketing Has Made Businesses Millions & Ordinary People Millionaires." – Bo Bennett
Are You Interested To Find Out How I Turned From An Employee To An Entrepreneur?

Your Friend,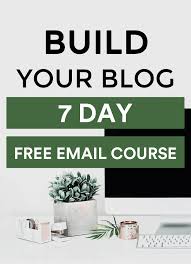 Sign Up To My FREE Make Money Online Email Course…
Learn To Turn Your Passion Into Profits!
Learn To Turn Your Interest Into Income!