"Are You Looking For More Information On Emailconomy? You Are In The Right Place!"
You might have heard and read a lot about the importance of Email Marketing and the truth is Email Marketing still works and the best.
We all know the famous saying, "Money Is In The List". It's TRUE!
I am trying to build my email list and even the established top internet marketers are keen on building their email list because they know the importance of building their list.
The reason is Money Is In The List!
When I come across "Emailconomy" it got my interest and attention because I believed it is going to deal with Email Marketing.
Before signing up for any program or before buying any product as an Affiliate Marketer I do in-depth and detailed research on the product and program.
I am sharing my results in this review post which I believe will provide you helpful insights. Also, it will save your time, trouble, money, and effort.

If You Don't Want To Waste Your Time On Scams And Products That Under-Delivers With Low-Quality, See My #1 Recommended Way Of Making Money Online

Emailconomy Review Summary
---
Product Name: Emailconomy
Creators: Angel "Michelangelo" Lopez
Product Type: Direct Mailing And Email Marketing.
Price: $500 – $2500 (At the time of writing this review)
Summary: Emailconomy is all about promoting the very same product (Emailconomy) via direct mailing and email marketing.
Rating: 20/100
Is Emailconomy Recommended? No
Are You Serious About Making Money Online?
Turn Your Interest Into Income And Passion Into Profits!

Frequently Asked Questions – FAQ
---
Below you can find some frequently asked questions for your quick reference…
What Is Emailconomy All About?
Emailconomy is all about promoting the very same product (Emailconomy) via direct mailing and email marketing.
How Much Emailconomy Cost?
$500 – $2500 (At the time of writing this review)
Is It Possible To Make Money In Less Than 24 Hours As Mentioned In Emailconomy Sales Page?
Only if you have a big email list already.
Just 7 Hours Of Work Per Week Is Enough As Mentioned In Emailconomy Sales Page?
In my opinion, it's not going to be enough.
Is Emailconomy A Scam?
No, but there are too many red flags and I will not recommend it.
Is There A Money-Back Guarantee With Emailconomy?
Are You Recommending Emailconomy?
What's Your Top Recommendation To Make Money Online?
You can read my top recommendation below.
If You Are Tired Of Scams & Products That Under-Delivers. My Free Guide Will Be A Greater Help. I Know This Because The Same Process Helped Me To Become My Own Boss.

One Important Thing I Noticed On Some Review Posts
---
Doing your research is the best way to find legit and genuine programs and stay away from scams.
I do appreciate your time and patience for doing your research on Emailconomy and that's the best way to stay away from scams and products that under-delivers with low-quality.
Also, to find genuine programs and products doing your homework is a must.
I like to inform you I am in no way associated with Emailconomy and I am not trying to sell Emailconomy to you.
All I am trying to do is share my findings and let you know the reasons why I didn't join this program.
Before we dive into our review I would like to introduce you to my FREE GUIDE "A Beginners Guide To Making Money Online – Be Your Own Boss!". Anyone can build an online business from home by using my FREE make money online Guide, because it shows you how to turn your Passion into Profits.
What Is Emailconomy?

 
---
In their sales video, they are talking about the importance of collecting emails and how you can make money by sending emails.
They are also claiming that all you need to do is devote 7 hours of work in a week. That is for one hour per day.
They are also claiming when you send an email in the morning to your list by evening you can make $500. It is only possible if you have a huge email list and if you are a newbie you might not able to generate these results.
In the video, they created the impression that Emailconomy will teach you how to collect emails and monetize it.
In a nutshell, when you join Emailconomy you will be promoting Emailconomy via direct mailing and email marketing. You get some basic training on direct selling & email marketing.
STEP BY STEP MAKE MONEY ONLINE EMAIL COURSE – FREE TRAINING
About The Creators
---
Angel "Michelangelo" Lopez is the creator of Emailconomy and he is involved with Empower Network in the past and you might be aware that Empower Network got collapsed.
On August 1, 2017, Dave Wood announced that Empower Network no longer exists and would enter bankruptcy court.
Angel "Michelangelo" Lopez claims that he is one of the top Internet Marketers for the past 13 years.
On the testimonials tab on the sales page, he shares the information in which people are praising him and there is another side of the coin as well (more on this later).
Emailconomy Pricing
---
Emailconomy contains three types of memberships…
Inner Circle Level – $500
Diamond Level – $1000
Master Level – $2500
The below details will provide you with additional information…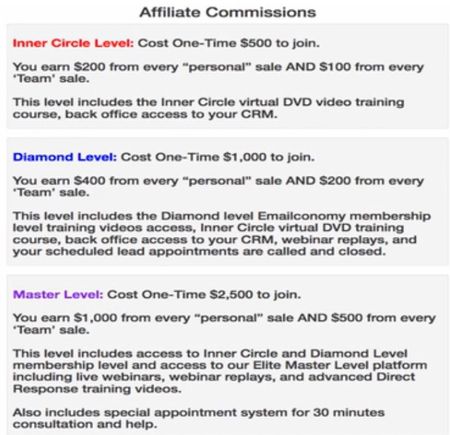 Also, you need to buy their letters and packages for direct mailing and you can find the information on the below image.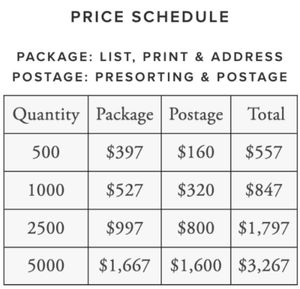 How Emailconomy Works? 
---
When you click on the button "Get Your Free Access Here". It will ask you to provide your User Name, First Name, Last Name, Country, Phone/Mobile, Email, and Password for Emailconomy.
Once you finished submitting all the details you will be taken to a webinar where you will get an overview of this product.
Then you need to buy one of their memberships that I have mentioned above and start promoting Emailconomy.
Below webinar by Angel "Michelangelo" Lopez will provide you more information on Emailconomy…
Pro's and Con's
---
The Good:
→ On The Sales Video, They Mention Emailconomy Is Not A Get Rich Quick Scheme.
The Bad:
→ A Lot Of Complaints On Angel "Michelangelo" Lopez
→ Quite Expensive
→ Totally Focused On Recruiting
→ Direct Mailing
→ No Guarantee For Success
→ Refund Policy

Is Emailconomy A Scam?
---
I don't want to call Emailconomy as a scam but it contains many red flags and that's the reason I am staying away from Emailconomy and advise you the same.
Reason 1 – A Lot Of Complaints On Angel "Michelangelo" Lopez
It is always advisable to check the reputation of the owner before joining a company. When I checked about Angel "Michelangelo" Lopez I was shocked to see a lot of negative feedback. This is a big red flag for me and I don't want to take the risk.
See the below screenshot…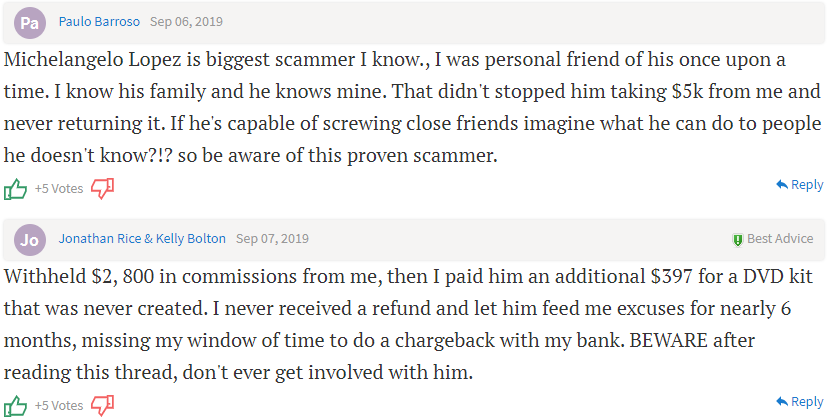 You can find more information HERE.
Reason 2 – It's Quite Expensive
The memberships are quite expensive and on top of that, you need to pay for the letters package that's also very expensive.
Also, you need to spend money on Autoresponder so if you make the calculation it's going to cost you a lot of money.
Reason 3 – Totally Focused On Recruiting
For me, the products need to add more value to the people who are buying it. Then only it will last long but here the main focus is on promoting Emailconomy itself. Also, it sounds like an MLM business model (commission from the team).
As you know very well the success rate with MLM's is very less.
Reason 4 – Direct Mailing
This is an old method and I don't believe this method will work. it might bring some sales but it won't help you in the long run.
May I ask, when is the last time you purchased or joined a program or product by seeing some promotional letters from unknown people in your letterbox?
Reason 5 – No Guarantee For Success
The sales video and earning disclaimer page contradict. See the earnings disclaimer…
Why we need to purchase his material when the creator himself saying he can't guarantee that we won't achieve any results from his ideas and techniques in his material.
Reason 6 – Refund Policy
I smell some urgency and for the sake of refund policy, they are having it.
"You may request a full refund within 3 Business days of purchase and joining our Emailconomy platform."
Just 3 business days?
Also, You will never be allowed to rejoin the Emailconomy platform.
These are the reasons why Emailconomy is a NO-NO for me.
Thanks for reading my review post.
My Earnings
---
Often people ask me is it really possible to earn $100+ in a single day. The answer is YES! My Highest Per Day Earning is $175 In Affiliate Marketing. See the proofs below.

Looking for the latest one?
Back To Back Earnings Within A Few Hours…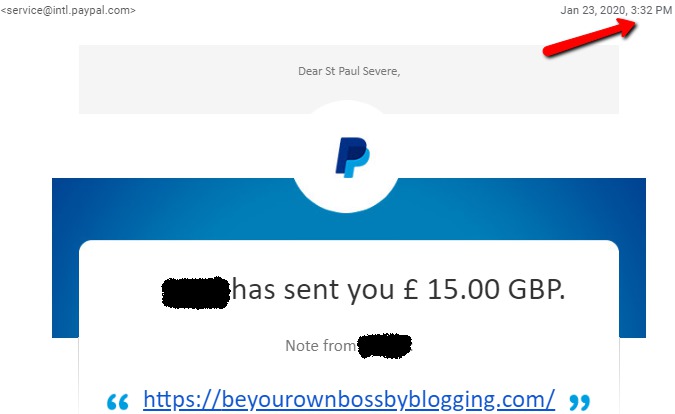 Within a few hours another payout…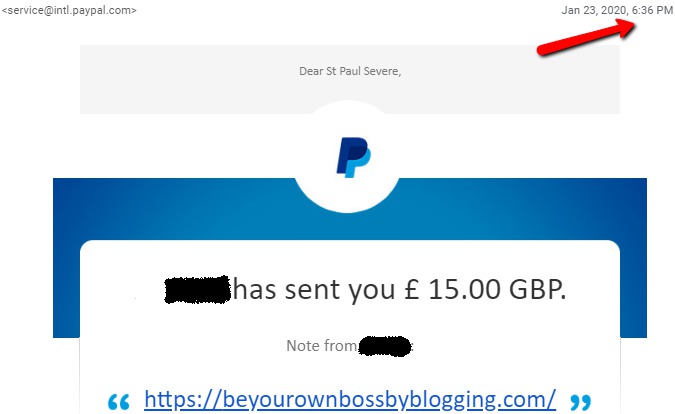 What about recurring income every month?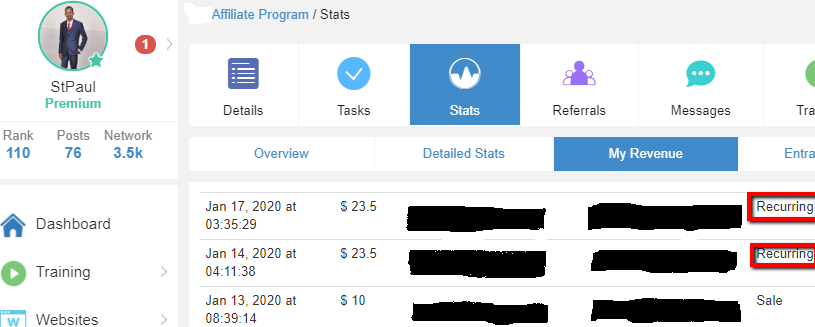 How I Make Money Online? 
---
"Success Is A Learnable Skill. You Can Learn To Succeed At Anything." — T. Harv Eker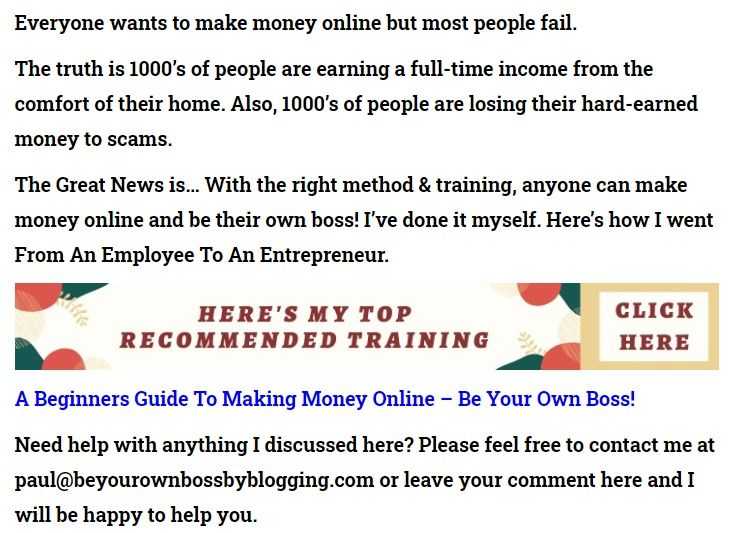 "Affiliate Marketing Has Made Businesses Millions & Ordinary People Millionaires." – Bo Bennett
Are You Interested To Find Out How I Turned From An Employee To An Entrepreneur?

Your Friend,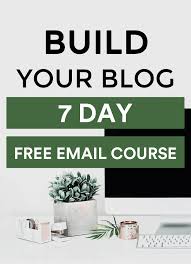 Sign Up To My FREE Make Money Online Email Course…
Learn To Turn Your Passion Into Profits!
Learn To Turn Your Interest Into Income!