"Attention, Are You Looking For More Information On Earnably? You Are In The Right Place!"
Is Earnably A Scam? Can you earn digital rewards and gift cards easily with Earnably? Is Earnably Legit and a real deal? This review will provide answers to these question and more. I am sure, this review will save your time and effort.
Somehow you came across the site Earnably and you are interested in making money online. That's the reason you are here to find out Is Earnably A Scam? and Whether you can give it a go or not.
There are 1000's of rewards and get paid to site online. There are scams and legit sites! You know what, if a site is legit it doesn't mean that you need to try them because many legit sites pay very little. You will earn pennies and your time and effort will be wasted.
Let's see whether Earnably is the better option for you to make money online…
Why You Need To Listen To Me & Who The Heck I Am?
The short answer is… This review will save your time, trouble, and effort.
I have tried many Reward sites, PTC sites, Survey sites, Link posting sites, MLMs, etc.
I have failed trying many make money online programs and I lost money to scams and programs that under-delivered with low-quality.
I have reviewed 350+ make-money-online programs and products on this site.
I am a full-time Blogger and Affiliate Marketer.
I will show you the legit method to make money online.
I strongly believe I can help you to make an informed decision on whether to join Earnably or not.
Okay, let's dive into the Earnably review…
If You Don't Want To Waste Your Time On Scams And Products That Under-Delivers With Low-Quality, See My #1 Recommended Way Of Making Money Online

Things You Need To Look Before Joining A Make Money Online Opportunity
---
Avoid Programs That Promises Easy And Quick Money
Avoid Programs That Promises Money If Someone Just Clicks On Your Referral Link
Check Reviews And Complaints On The Program
Check On The History Of The Owners And The Website/Program/Company
Stay Away From Programs That Only Focus On Recruiting Members Not On The Product Or Service
Earnably Review Summary
---
Product Name: Earnably
Website: earnably.com (This is not my affiliate link)
Launch Date: 2015
Product Type: Reward Site Or Get Paid To Site
Price: $0 (Free To Join)
Summary: Earnably is a Reward or Get Paid To site that pays you cash and gift cards for doing offers such as completing surveys, watching videos, clicking on ads, doing offers, referring friends, etc.
Rating: 45/100
Are There Better Options Compared To Earnbucks? Yes
Are You Serious About Making Money Online?
Turn Your Interest Into Income And Passion Into Profits!

Frequently Asked Questions – FAQ
---
Below you can find some frequently asked questions for your quick reference…
What Is Earnably All About?
Earnably is a Reward or Get Paid To site that pays you cash and gift cards for doing offers such as completing surveys, watching videos, clicking on ads, doing offers, referring friends, etc.
How Much Earnably Cost?
Is It Possible To Make Money Online Using Earnably?
Yes, you can make money online with Earnably.
Are Earnably Accredited By Better Business Bureau?
Are There Better Options Available Compared To Earnably?
What's Your Top Recommendation To Make Money Online?
You can read my top recommendation below.
If You Are Tired Of Scams & Products That Under-Delivers. My Free Guide Will Be A Greater Help. I Know This Because The Same Process Helped Me To Become My Own Boss.

One Important Thing I Noticed On Some Review Posts
---
I appreciate you for doing your research/homework and it's the best way to find legit and genuine programs and stay away from scams.
You can find many positive and negative reviews online. However, in many cases, the product and the program encourage or reward their members to provide positive reviews. If you base your decision based on those biased reviews it might disappoint you.
So you need to be aware of that but the good news is there are some genuine reviews as well.
I'd like to inform you that I am in no way associated with Earnably and I am not trying to sell Earnably.
STEP BY STEP MAKE MONEY ONLINE EMAIL COURSE – FREE TRAINING
Earnably Sales Page Claims
---
Below you can find some of the claims made by Earnably…
Digital rewards and gift cards made easy.
Earn instant rewards by completing tasks, watching videos, and taking surveys. It's that easy!
Share your unique referral link with your friends, family, and followers. You'll earn 10% of their earnings for life!
Let's see if Earnably lives up to these claims.
What Is Earnably?
---
Earnably is a reward site founded in 2015 and there is no much information about the founders on their site.
There is nothing special about Earnably when compared to other get paid to sites. You are going to earn money for doing offers such as completing surveys, watching videos, playing games, taking free trials, clicking ads, downloading apps, etc.
You can watch the below video review…
Before we dive into our review I would like to introduce you to my FREE GUIDE "A Beginners Guide To Making Money Online – Be Your Own Boss!". Anyone can build an online business from home by using my FREE make money online Guide, because it shows you how to turn your Passion into Profits.
How Much It Will Cost To Join Earnably?
---
It's free to join and I would advise you not to join any Get Paid To site, that asks money for joining.
How To Register Earnably?
---
The registration is very straightforward and simple.
Email Address
Username
Password
Mobile Phone Number
Agree to their Terms of Service and Privacy Policy
You need to confirm your email and you are set to go…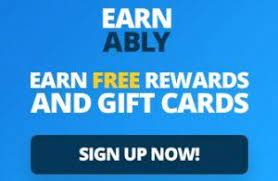 A Look Inside Earnably
---
Here is the inside look at the Earnably member's area…
Earn
Offer Walls
Daily Surveys
Videos
App
Promo Codes
Redeem
Invite
Help
Next To Your Avatar you will have a dropdown box that contains…
Activity
Rewards
Referrals
Devices
Account
Logout
How Earnably Works? 
---
Below are the offers available with Earnably by doing these offers you gonna make money online. Okay, let's see how Earnably works.
Offer Walls
In this section, you can complete small offers and earn points. The offers include taking surveys, watching videos, online shopping, joining free trials, sign-ups, click ads, mobile apps download, gaming, taking quizzes, etc.
Daily Surveys
By taking surveys you will earn points. With some of their partners, you need to register before taking the surveys (survey routers) or take a questionnaire to let them know about your interest.

Videos
Here you can earn rewards by watching videos with Hideout.tv. You can find videos in the below categories…
Food, Sweets, Music, Celebrity, Viral, Fix it, Best Life, Gaming, Adventure, Movie Buzz, Tech Talk, Laughs, Staff Faves, and Chillax.
A hideout.tv account is required to redeem your points and it's free only. You will earn 0.7 points for every 3 ads you watch.

APPS
You can select the device you own from iPhone, iPad, and Android. Save your device and update it. You can earn points by downloading apps and by using them. You may want to choose a category or order by highest to lowest payout, easiest completions or newest offers!
Promo Codes
When you enter the unique phrase in the Promo Codes you will get some instant and free points. They offer two types of Promo Codes. They are Bonus codes and Point codes.
Bonus codes will offer or add some additional percentage on top of every offer you complete and points earned from Bonus codes are added to your account at the beginning of every month (i.e the points earned through bonus points in January will be credited at the start of February).
With Points codes, your points are immediately added to your account and there is no waiting. On the first of every month, they add new promo codes. You can find these promo codes on Earnably Facebook, Twitter, Instagram, and on their email newsletter.
Redeem
You can redeem your points using the below merchants…
PayPal (From 125 Points)
Flipkart (From 165 Points)
Amazon (From 60 Points)
Big Bazaar (From 165 Points)
BookMyShow (From 165 Points)
Cleartrip (From 1400 Points)
Lifestyle (From 700 Points)
Uber (From 95 Points)
Invite
By referring friends or others to Earnably you can earn 10% of everything they earn and this doesn't include the earnings they make from Promo Codes or any other bonus given by Earnably. The points earned from your referrals are credited to your account balance at the beginning of every month.
"And because we have no idea what to do, we just stick with whatever is chosen for us," says Ariely.

What Are The Minimum Payout Requirements With Earnably? 
---
It depends on the reward option you choose. For example, with PayPal its 125 points for $1 and 500 points for $5 cashout. I have discussed the rewards and the points in detail above.
What Are The Payment Methods Available With Earnably? 
---
There are many ways that Earnably rewards its members. Below you can find a few…
PayPal
Gift Cards
Cryptocurrency
Who Is Earnably For? 
---
For the people who are not much worried about earning very little for their time and efforts.
Can You Make Money With Earnably? 
---
Yes, for sure you can make money with Earnably and they are paying their members. When you calculate the time and effort you invest in doing these surveys and offers I truly believe it's not worth it.
Is Earnably Accredited By Better Business Bureau?
---
No, Earnably is not accredited or rated by BBB.
Earnably Google Trending
---
The Google Trending or the interest in Earnably is going down.
Pro's and Con's
---
The Good:
→ 5+ Years Online
→ Free To Join
→ Low Payout Threshold
The Bad:
→ Low Earning Potential
→ Complaints (Account Suspension)
→ You Are Trading Your Time For Money
→ Time And Effort Wasted
Is Earnably A Scam?
---
No, Earnably is not a scam and it's a legit site. You can make money by doing the offers and they are paying their members. However, I am not recommending Earnably because of the below reasons.
Making Money With Surveys
Surveys are all about getting consumer feedback and interest. I personally don't like taking surveys because it disappoints and wastes our time. After answering many questions it will inform us that we are not qualified and try the next one.
Also, you need to enter your details and interest to register with the companies that provide surveys to you. Although there are many legit survey sites I don't recommend it because of the low earning potential.
Watching Videos
As I mentioned you get 0.7 points for watching 3 videos including ads. Approximately one point is worth $0.008 or $0.01. If you calculate the time you spend on watching the videos, electricity, your system usage, internet cost, etc it's not worth investing your time.
Trust me making $1 will take several hours.
Be Careful On The Offers That Requires Your Credit Card
There are offers or free trial that requires you to enter your credit card but if you forget to cancel it you will be charged and you might be aware generally getting the refund is not an easy task.
Earning Potential Is Very Low
The earning potential is very low not only with Earnably that's the case with most of the get paid to and reward sites. Even the happy members of Earnably are saying the earning is going to be very less.
I read one comment or review by one of the Earnably users who earned $50+ with them. For nearly 3 months he earned $50 and he said he is using 3 monitors. Is it really worth earning $50 by using 3 monitors? and that too for a 3 month period.
See that comment below…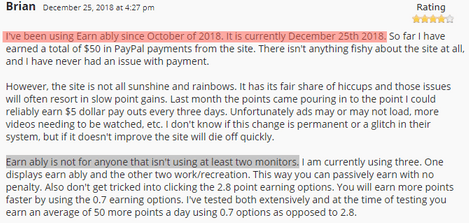 Complaints
As I mentioned there are many complaints that the accounts are blocked or suspended. Also, the completed offers were not tracked properly or did not reflect in the member's account or reflected after many days.
Already people are investing a lot of time and effort to earn a few dollars. And it's not good news when you are not credited with the points properly for the work done and your account getting blocked or suspended for no good reason.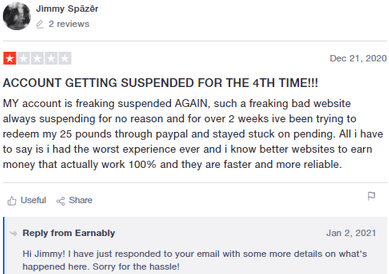 See the next one…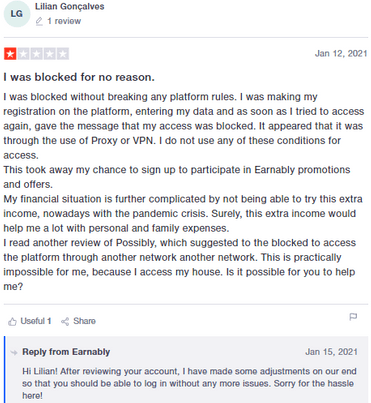 There are good reviews and negative reviews on Earnably. To be honest that's the case with all the programs but there are some serious issues here. What if your account is suspended without prior information? All our efforts are wasted and it really hurts.
You can read more Earnably complaints and reviews HERE.
If you ask me, Paul, What I Need To Do To Earn Money Online?
With great love and respect, I will advise you to stay away from these scam sites that promise easy and quick money. If you are serious about making money online I will request you to find your passion and build a website on it.
If you are looking for a genuine and legit platform to learn about making money online or building your online business. And you are ready to invest the time and effort, you can read my free guide on making money online… CLICK HERE!
I hope my Earnably review has been helpful and if you have any comments, questions, or experience with Earnably, please share in the comments section below.
Thanks for reading my review.
Fed up of buying joining programs after programs?
Just one platform you have everything you need to succeed online. No hype no unrealistic claims, no upsells, 24/7 support, weekly webinars, step-by-step training from scratch, unlimited resources, and study materials.
My Earnings
---
Often people ask me is it really possible to earn $100+ in a single day. The answer is YES! My Highest Per Day Earning is $175 In Affiliate Marketing. See the proofs below.

Looking for the latest one?
Back To Back Earnings Within A Few Hours…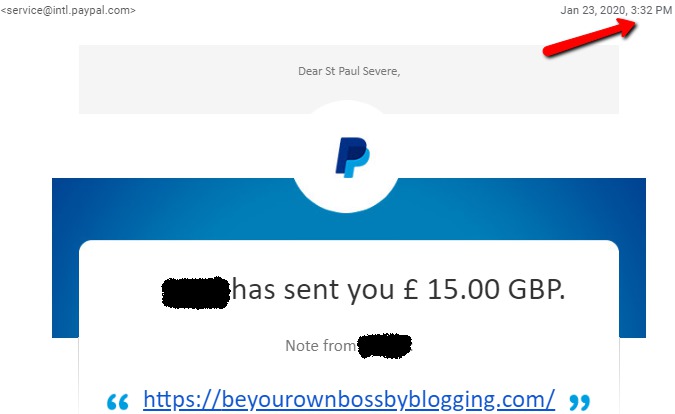 Within a few hours another payout…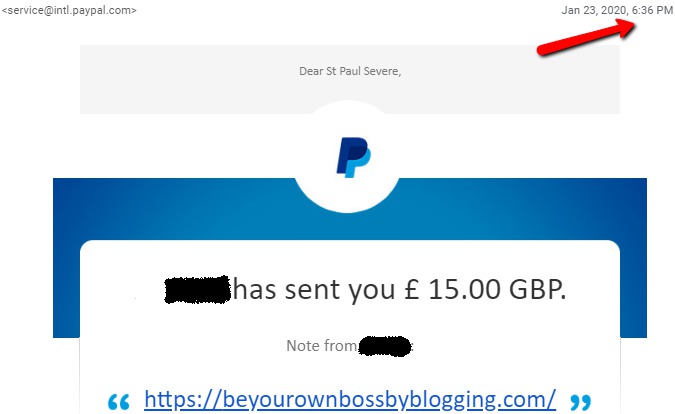 What about recurring income every month?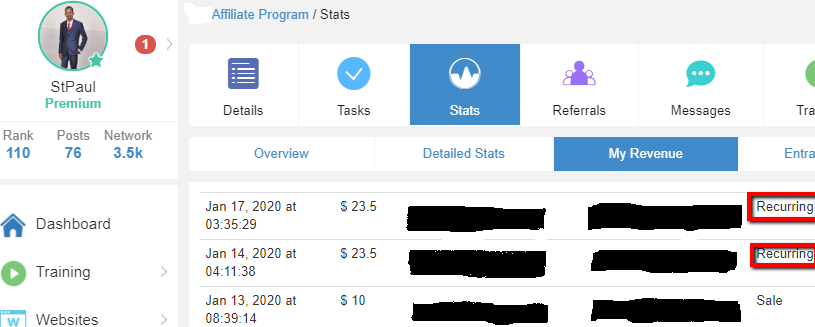 How I Make Money Online?
---
"Success Is A Learnable Skill. You Can Learn To Succeed At Anything." — T. Harv Eker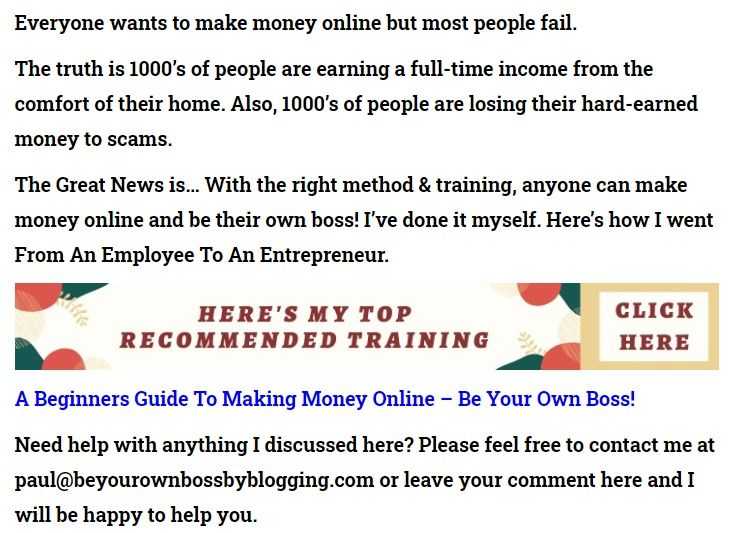 "Affiliate Marketing Has Made Businesses Millions & Ordinary People Millionaires." – Bo Bennett
Are You Interested To Find Out How I Turned From An Employee To An Entrepreneur?

Your Friend,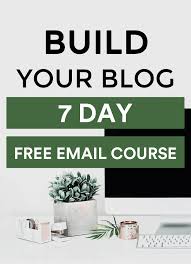 Sign Up To My FREE Make Money Online Email Course…
Learn To Turn Your Passion Into Profits!
Learn To Turn Your Interest Into Income!