Welcome to my post, "My Highest Per Day Earning $175 In Affiliate Marketing".
In this post, I am going to share my per day highest earnings and also provide you with some helpful insights.
You can make $100 per day by just working 10 minutes per day.
You can make $150 per day by just working 15 minutes per day.
You can make $200 per day by just working 20 minutes per day.
You can make $500 per day by just working 30 minutes per day.
You can make $1000 per day by just working 30 minutes per day.
You might have come across the above claims in many sales pages and sales videos. And you might be wondering is it really possible to make these types of earning per day?
My Answer
---
It is possible to earn $100, $150, $200, $500, $1000+ per day. But many make money online programs make it sound like there is not much work involved.
Making money online is very easy and simple. Based on my experience, that's the case. In order to make money online, it takes time, effort, work, and patience.
I do have friends who earn $1000+ to $2000+ in one day. But they have invested loads of work before reaching this place. They even worked without seeing any results for many months.
Affiliate Marketing and any other business work like an exponential graph – Jerry Huang
Do remember success is not an accident.
Real Proofs From My Friends
---
You might have come across fake testimonies. Some product creators use Fiverr actors to give fake testimonies and I hate it.
Below are the real proofs that you can see by yourself and even you check it out by contacting them.
Jerry Huang
Jerry is just 21-year-old and he is one of my very good friends and mentors.
He wrote a popular post "Are You Willing to Work for FREE? (The Secret to Success in Anything!)" he provided great insights and requirements to succeed in an online business.
Why do you need to listen to him? See his income proofs… (You can click the below images to read the full article).
$40K in 4 Hours! Craziest Night Ever!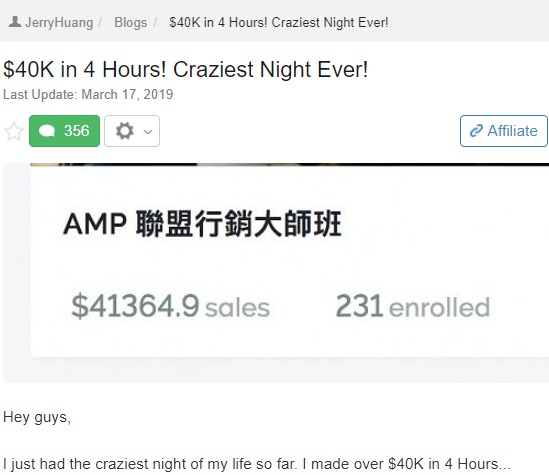 $100K Week. Hard Work Paid Off Huge!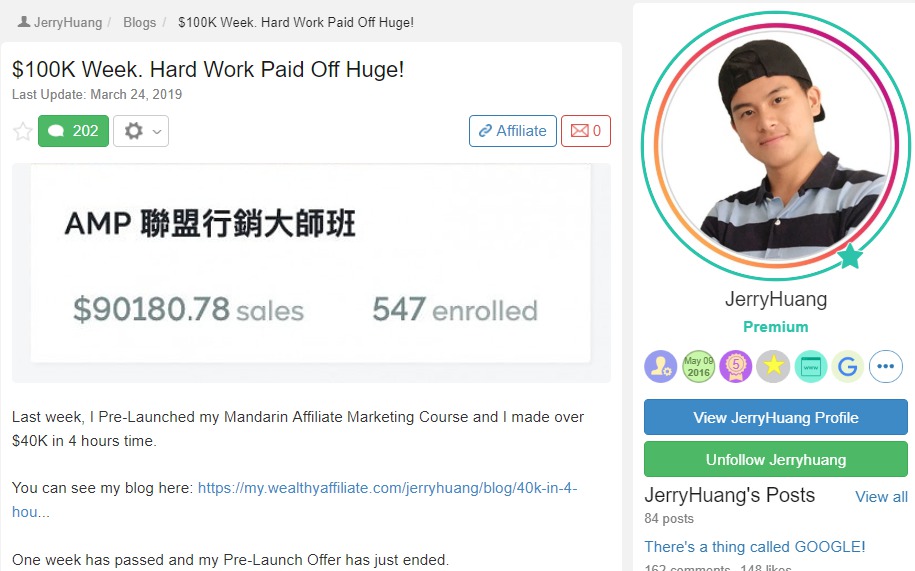 See the achievements of my friend and mentor Littlemama (Grace).
Half Year Update: $9K 2018 vs $23.6K 2019
New Record: $1,300+ Per DAY! Affiliate Marketing Works & Rocks!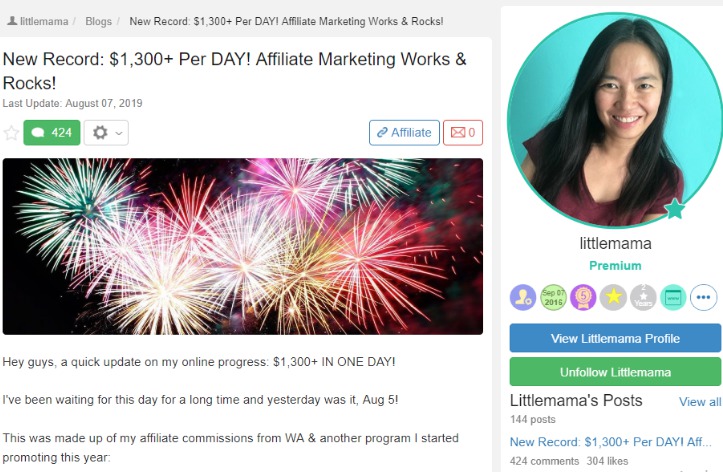 There is no alternative for truth and the above are the real proofs.
My Previous Per Day Highest
---
My previous per day highest earning was $163, and it was quite for a while my per day highest-earning.
My Current Per Day Highest
---
Today I made $175 (5th of September 2019) and I am happy about this personal milestone but one thing is for sure very soon by GODS grace I will break this record.
Although I didn't reach the great heights like Jerryhuang and Littlemama now, I am on my way…
See the proof below…
So it is possible to make money online and earn earn $100, $150, $200, $500, $1000+ per day. However, to achieve it you need a good training platform, support, tools, dedication, patience, work, effort, etc.
What I Recommend? 
---
If you are interested in building your long-lasting and passive income generating online business, I can help you.
"If You Don't Build Your Dream Someone Will Hire You To Help Build Theirs." Tony Gaskins
Now the ball is in your court my friend, You're at the point of decision. You can either continue down the path of least resistance, the path you have already been traveling, or you can choose the road less traveled.
The path of least resistance will probably result in you getting the same outcomes you've always received.
But if you want something different to happen, if you want to change the direction of your Finances and be your own boss you're going to have to do something different.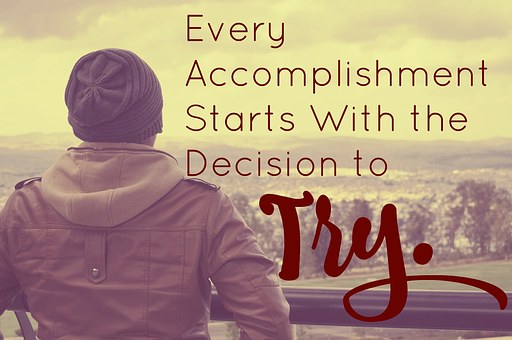 Make a new choice, and pursue your new outcome. This Method is the secret behind quitting my day job and becoming a full-time blogger.
Based on my experience in order to earn money online, the basic thing you need to have is a website (Your Own Website) and one of the best ways to earn money online is by doing Affiliate marketing.
I have revealed in more detail about the method which helped me to become a full-time Affiliate Marketer and how YOU too can do it in my FREE Guide.
I want to share what I found so you can build the online business of your dreams too!
"Affiliate Marketing has made Businesses Millions & Ordinary People Millionaires." – Bo Bennett
If you are interested in learning Affiliate Marketing…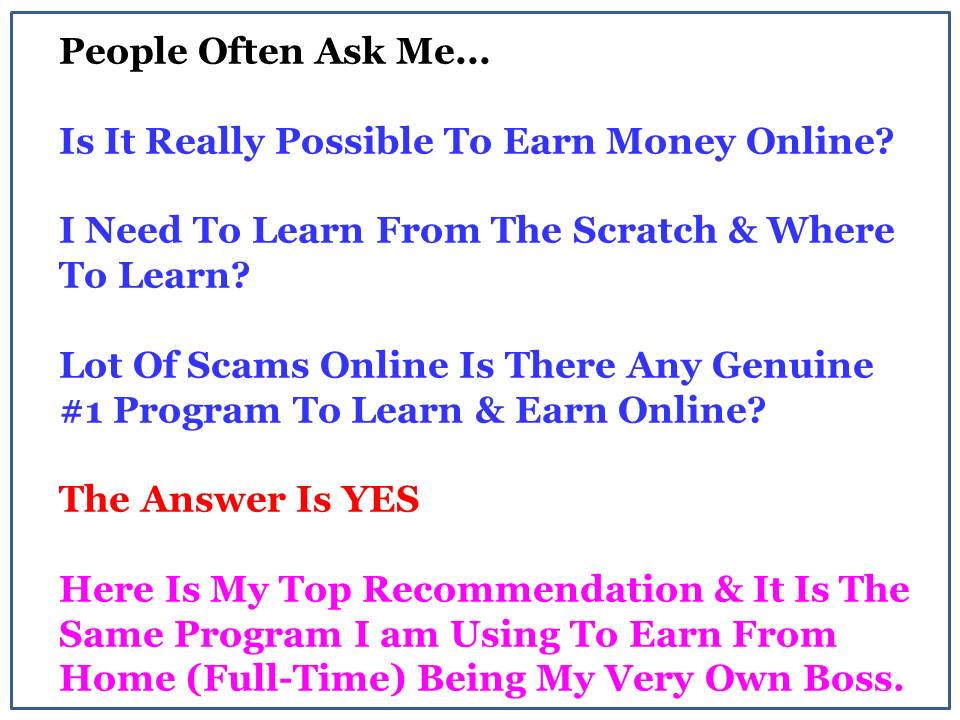 A Beginners Guide To Making Money Online – Be Your Own Boss!
Need help with anything I discussed here on My Highest Per Day Earning $175 In Affiliate Marketing?
Not to worry I am here to help you, please feel free to contact me at paul@beyourownbossbyblogging.com or leave your comment here and I will be happy to help you.
Your Friend,