Welcome to my post "100 Blog Posts In 100 Days".
31st of May I decided to write one post per day. I am happy to share with you that this is my 100th post.
Often people ask me how I can publish one post per day. So I thought of writing a blog post about it.
Content Is King
---
We all know that content is king and producing quality content makes the difference.
Since I don't have the budget, I can't afford paid traffic. I don't have a big following on social media platforms, so my free social media traffic is very less.
So my only option is organic traffic. For that, I need to write quality posts and decided to focus on writing quality content to my site.
Here comes the next big question…
How Many Posts Do We Need To Write The Minimum?
---
I was asking many experts and successful affiliate marketers & bloggers "How Many Posts I Need To Write The Minimum?".
To make it simple…
Most of them said a minimum of 3 quality and content-rich posts per week are good. And on top of that, they said if you could write one post per day it will be awesome.
I nearly wasted 18 months in my blogging career due to shiny object syndrome (Chasing different programs which promise quick success).
So I want to catch up those 18 months and decided to write one post per day. On 31st May 2019.
50 Posts In 50 Days 
---
By GOD'S grace, I was able to achieve 50 posts in 50 days. To be honest, it's not at all easy and often struggled a lot.
English is not my native language. Like most of the people I to hate writing, but I was wondering how I achieved this milestone.
When I shared my achievement, people checked my site and use to ask me how I was able to do it.
One Of The Message I received
---
Hi!
I don't want to bother you at all. But I've learned that you are able to write a post every day. That's such an accomplishment.
Personally, it takes me some time trying to find the post subject in superposition with good keywords, then it takes me hours to write the post (2k words), and another few hours publishing it fully customized, and included with some products links. Basically the whole day. 
At this pace, I can't keep this up, and I think my limit would be 2 posts per week, and that if I'm really motivated and working under the right circumstances. 
I'm wondering what kind of posts you are writing and how many words if you don't mind me asking. Do you have any recommended training here at Wealthy Affiliate that would help me improve my writing productivity? 
Thank you so much. 
Nick.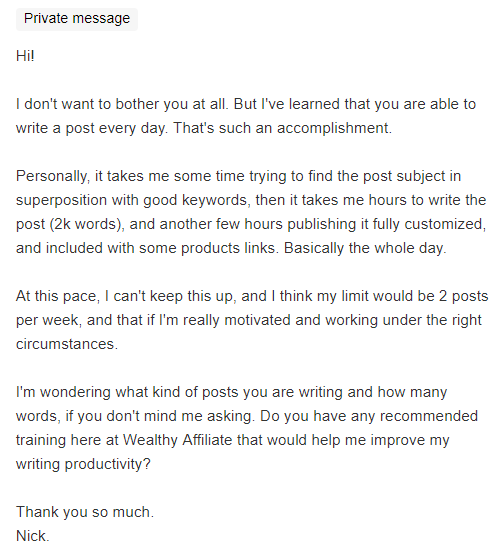 My Reply
---
Dear Nicolas,
No, bother at all. Thanks for asking!
Your bio is inspiring and you are already an achiever.
To be honest, for me also it will take nearly one day to complete one posts two months before. Even sometimes I take 8+ hours to complete one post now.
Just last two months, I am writing one post per day.
However, please see the stats on how many posts I wrote for each month below…
Sep (2018) – 8
Oct – 3
Nov – 1
Dec – 1
Jan (2019) – 3
Feb – 2
Mar – 0
Apr – 9
May – 10
Jun – 30
July – 31 (Update for this blog post – August 31)
So you can see it's all about commitment, determination and taking action. I am the same person who didn't write even one post in March 2019.
Writing is difficult for me and you might be aware English is not my first language. I struggle to write.
Winning is a habit! & Writing is a habit too!
*********************************************************
I didn't take any special training. All I did is followed the WA training…
However, I would advise you to watch our trainer jay webinars on ranking methods…
I write review posts with 2000+ words. I am on make money online niche.
I will always have a list of keywords ready for the next 30+ days in advance on Jaaxy "saved list".
Hope this helps!
GOD Bless!
Your Friend,
Paul
His Reply
Thank you Paul!
I do have about 10 keywords ready to be turned into posts but I still need to check if they're actually good. 
Thank you for the links, I'll check them out. 
Well, I guess I'll try my best. You are inspiring to me.
I hope you got some helpful insight from the above conversation.
Writing Is A habit
---
Yes, writing is a habit.
Repetition is the mother of learning, the father of action, which makes it the architect of accomplishment. – Zig Ziglar
So stop worrying start writing!
What I Recommend? 
---
If you are interested in building your long-lasting and passive income generating online business I can help you.
"If You Don't Build Your Dream Someone Will Hire You To Help Build Theirs." Tony Gaskins
Now the ball is in your court my friend, You're at the point of decision. You can either continue down the path of least resistance, the path you have already been traveling, or you can choose the road less traveled.
The path of least resistance will probably result in you getting the same outcomes you've always received.
But if you want something different to happen, if you want to change the direction of your Finances and be your own boss you're going to have to do something different.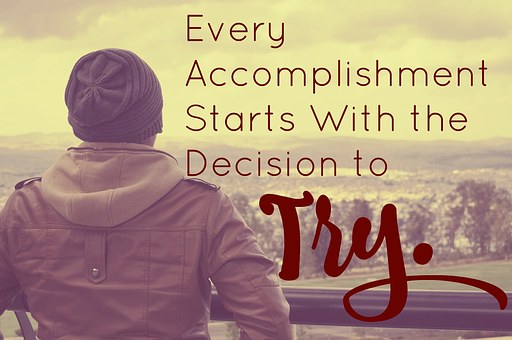 Make a new choice, and pursue your new outcome. This Method is the secret behind quitting my day job and becoming a full-time blogger.
Based on my experience in order to earn money online, the basic thing you need to have is a website (Your Own Website) and one of the best ways to earn money online is by doing Affiliate marketing.
I have revealed in more detail about the method which helped me to become a full-time Affiliate Marketer and how YOU too can do it in my FREE Guide.
I want to share what I found so you can build the online business of your dreams too!
"Affiliate Marketing has made Businesses Millions & Ordinary People Millionaires." – Bo Bennett
If you are interested in learning Affiliate Marketing…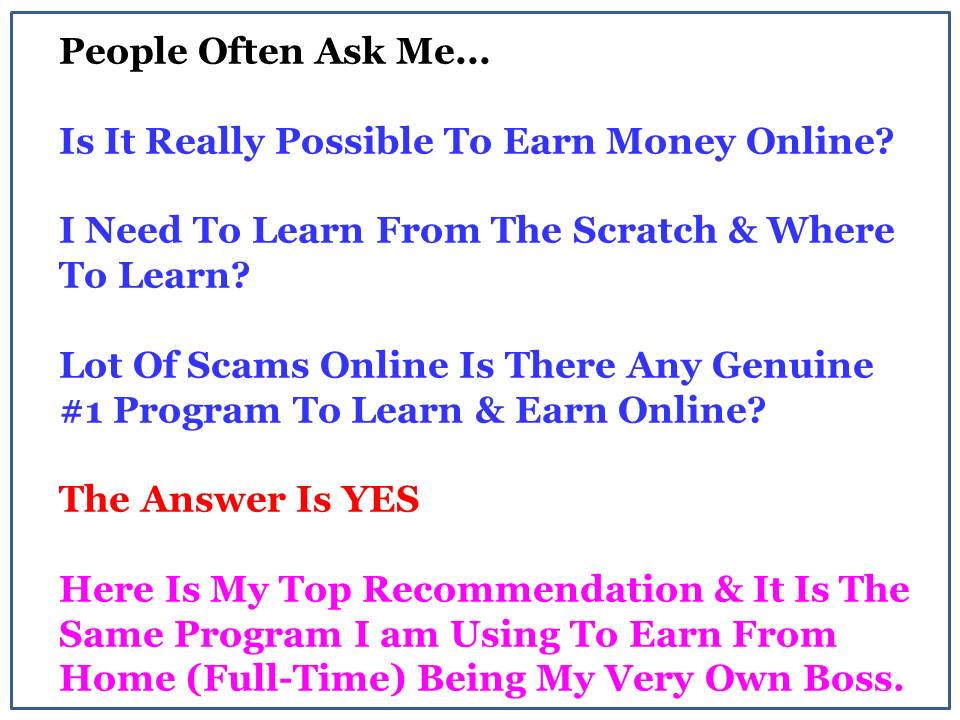 A Beginners Guide To Making Money Online – Be Your Own Boss!
Need help with anything I discussed here on 100 Blog Posts In 100 Days?
Not to worry I am here to help you, please feel free to contact me at paul@beyourownbossbyblogging.com or leave your comment here and I will be happy to help you.
Your Friend,